Meet Shelley Marie, Star of Disney's New World of Color Halloween Show
Disney California Adventure park has had its signature nighttime show "World of Color" for nearly 10 years now, and while there have been different versions of the show to celebrate the holidays and Disneyland's 60th anniversary, one holiday in particular hasn't been represented: Halloween.
That all changes this year with the Halloween Time debut of the long-awaited "World of Color — Villainous!" at the Disneyland Resort in Anaheim.
Like previous versions of the nighttime water show, "World of Color — Villainous!" will take advantage of the show's smart water fountains, mist projection screens, lighting and special effects to tell a story.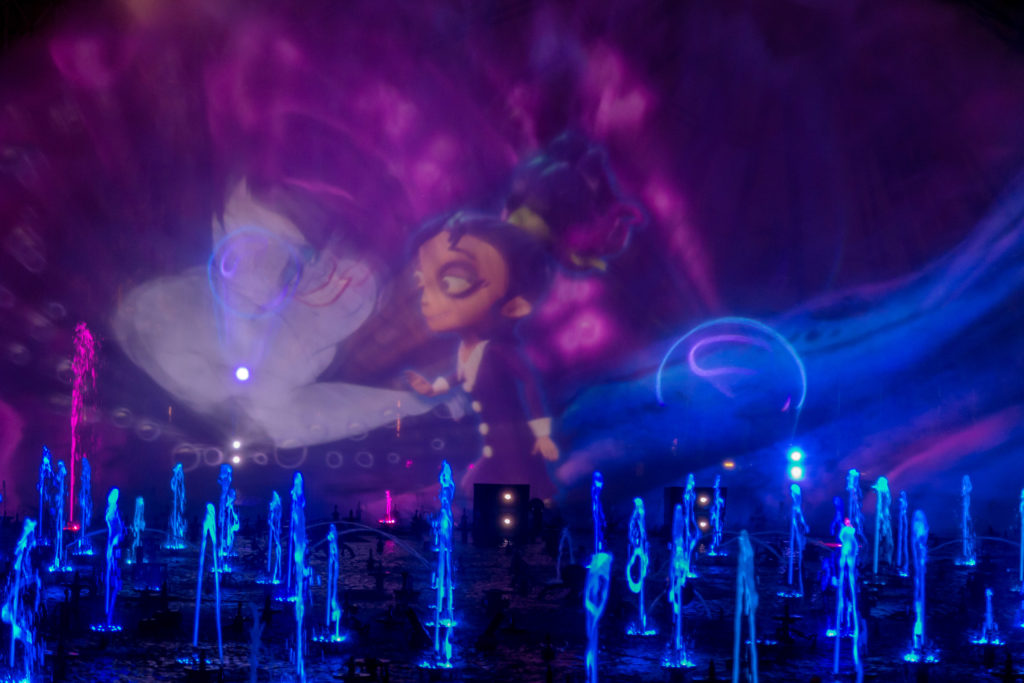 Unlike previous versions, however, this one will tell an original story. It all centers around the main character named Shelley Marie and her hard decision of what she should be for Halloween. She quickly finds herself in a predicament: Is she really as strong and unique as some of her favorite Disney characters that she's considering to be?
The show then quickly takes a turn as some of Disney's most infamous villains come out to play.
While we get to share in Shelley Marie's journey in realizing that it's OK to have a little villain in all of us, there's a lot more to her than meets the eye.
The character was dreamt up by legendary Walt Disney Animation Studios animator and director Eric Goldberg. "[She] was inspired by all my favorite 'spooky' artists when I was growing up," Goldberg told Irvine Weekly. "We came up with an amalgam character who we think is delightfully spooky."
To animator her, Goldberg used all the tools that Disney Animation uses to create their animated feature films, including hand-drawn animation to sketch out her design. Then, it was off to Disney's digital animation team to create her movements of interacting with those Disney villains on those towering mist screens.
Goldberg said, "When we animated her for a water spray screen, we had to take extra special care to make sure that she would be readable on that surface."
As for the characters Shelley Marie will encounter in the show, they include classic Disney villains such as Maleficent, Hades, Cruella de Vill, and the iconic Oogie Boogie from Tim Burton's Nightmare Before Christmas.
It's Oogie's party after all, since you'll need to purchase a separate ticket for this special limited-time, after-hours Halloween event at Disney California Adventure to see "World of Color – Villainous!"