During a press conference on Friday, Aug. 28, California Gov. Gavin Newsom delivered a new statewide framework of monitoring tiers for COVID-19.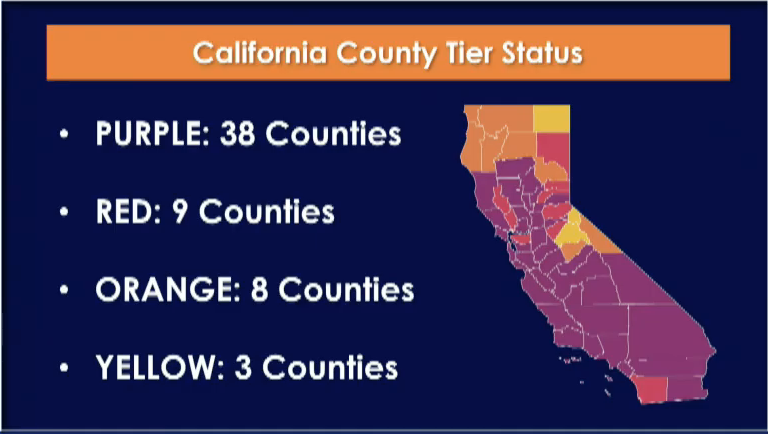 The four-level tiered uniform framework is a statewide, color-coded roadmap that monitors each county's "risk level" by positivity rates and daily new cases.
Moving at a rate that Newsom called, "stringent and steady," counties will be required to wait at least 21-days between advancing into the next tier. If a county's daily new cases increase, a county can be downgraded a tier.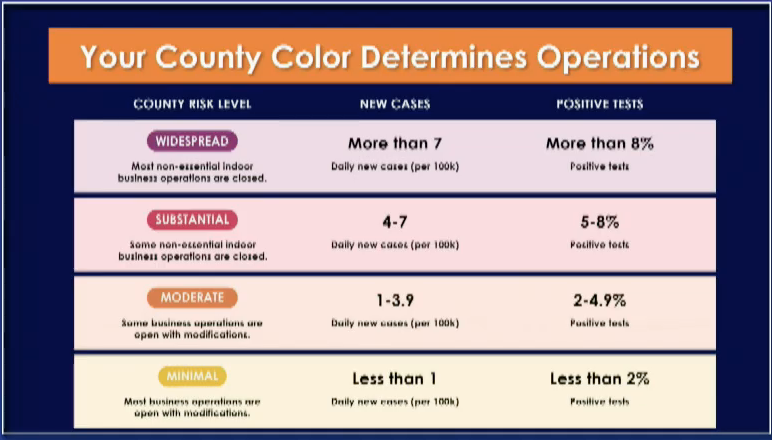 Despite the fact that Orange County was removed from the state's COVID-19 monitoring list Sunday, Aug. 23, the county must now meet the criteria of the new statewide tiers.
The tiers, "Widespread" – purple, "Substantial" – red, "Moderate" – orange and "Minimal" – yellow, are now indicators of progress against the infection.
The widespread section replaces the state's "watchlist," where counties were restricted from most indoor operations, however the new system allows for barbershops and hair salons to reopen its indoor operations with certain modifications.
In this purple tier, Newsom said the counties have to have "at least two weeks stability" in order to move down to a lower tier, and moving forward, the counties' statuses will be assessed every Tuesday, starting September 8.
On Friday, Orange County, along with 37 other counties in the state were currently in the "Widespread" category with positivity rates above five percent. Widespread is currently the highest tier.
On Friday, Aug. 28, Orange County reported 323 new COVID-19 cases, with nine new deaths. The county's positivity rate was 5.2 percent, with 82.4 cases per 100,000 people.
"COVID-19 will be with us for along time, and we need to adapt," Newsom said during his Aug. 28 press conference announcing the state's new tiers for COVID-19 monitoring.
"It's a sober reminder that what we will be announcing today in terms of our progress and in terms of our new strategies, and how we being to modify our stay-at-home order."
In order to help the public better understand what activities are permissible in certain sectors the state has introduced "A Blueprint For A Better Economy" found within the COVID-19 portion of the state's website.
The "Blueprint for A Better Economy" will allow the public to input their ZIP code and desired activity to determine what is open and what is not. This resource will be available starting Aug. 31.
While the positivity rate has fallen, the state's testing capabilities have doubled, adding 150,000 tests per day and providing test results within 48-hours of it being administered.
Dr. Mark Ghaly, secretary of the California Health and Human Services, explained that this new framework was less about reopening, and urged the public to reduce the spread.
"Today we're talking about a framework, and moving forward, and not about reopening," Ghaly said during the Aug. 28 press conference. "Although we have come down 40 percent — it's still higher than we were in June."
At one point, as many as 40 counties, including Los Angeles and Orange, were being monitored throughout the state and ordered to close indoor operations such as gyms, churches and personal care businesses.