The Museum of Woman is a wonderful and unique educational space that is a largely unknown hidden gem in the city of Irvine. This organization is less of a traditional museum and more of an interactive sanctuary and educational center for goddess spirituality and historical womanhood, telling the stories of goddesses, queens and wisewomen from the paleolithic to the present. Although the Museum of Woman (MOW) does offer visitors rotating and permanent exhibitions, these exhibitions are very small and presented in a more approachable and casual style than traditional museums. The MOW is a multi-room space near the John Wayne Airport that offers guests the opportunity to learn about leading women in history, female archetypes from a wide range of cultures and eras, the traditions of goddesses in history and the role of femininity throughout history. This American Alliance of Museums certified organization is the only museum of its kind in the country and has been calling Irvine home for over 16 years, thanks to its founder, curator and director, Reverend Ava Park.
Touted as a museum to educate the public in the hidden history of goddess veneration and matriarchies in history as well as the history and differences between matriarchies and patriarchies in society, MOW offers free admission, refreshments and reflection or meditation spaces to anybody interested. Fridays and Saturdays are days where anyone is welcome to come in and explore and enjoy the exhibitions and spaces at the MOW, while Sundays are reserved for women-only services for the MOW's sister organization, the Goddess Temple of Orange County.
This feminist museum is first and foremost a space for women – whether you want a space to sit quietly and reflect, a space to channel the four corners, a place to connect with goddesses from history, a place to connect to your inner self, or simply if you want to connect with other people who identify as women, MOW is the space for you. The Museum of Woman is open to women, men and children, with the intention of teaching all to value woman and her gifts to humanity. All events sponsored by the MOW are open to everyone, women and men alike.
The Reception Room is a dedicated area for the Celtic goddess Bridgit, with a permanent exhibit of information and artifacts of ancient Celtic goddess spirituality. There are also a few small rooms in the front that are themed around different goddesses from history with sitting areas, comfortable meditation spaces, and information and artwork about the goddesses and cultures. This front area also houses a rotating exhibition case that is dedicated to an innovative leading female from more contemporary times, sometimes a musician, an actress, an artist, a politician, a social leader, etc.
Although the MOW offers historic and spiritual lessons about women and goddesses, this non-traditional space is a private museum that is largely based in Goddess Spirituality. Both new and permanent MOW exhibits are meant to educate the public about the actual history of woman and goddess veneration in our human history, which has been largely hidden from the public. The history and mythologies of the goddess is not often taught to young people in schools, or even in adult religion courses. Judeo-Christian culture is less than 4,000 years old, far younger than goddess worship, which began worldwide over 250,000 years ago.
Goddess Spirituality is currently one of the fastest-growing religions, and with its appealing lack of dogma, it is intended to be a highly individualized set of beliefs and practices. With roots in contemporary feminism, Goddess Spirituality is closely linked to Neo-Pagan and Wiccan practices, but Goddess worshippers can be Christian or Buddhist or from any other tradition.
Like the religion of Voodoo, Goddess Spirituality can exist within traditional religious frameworks and can also exist without any framework at all. In the end, it comes down to your personal relationship with Goddess or divinity and a female-centric approach to society and life. The basic thealogy (not a misspelling) can be remembered by the acronym "ROSE" – R for "reverence for life," O for "oneness" (all is one); S for "sacred" (all is sacred) and E for "eternal" (nothing ever dies, it simply changes form).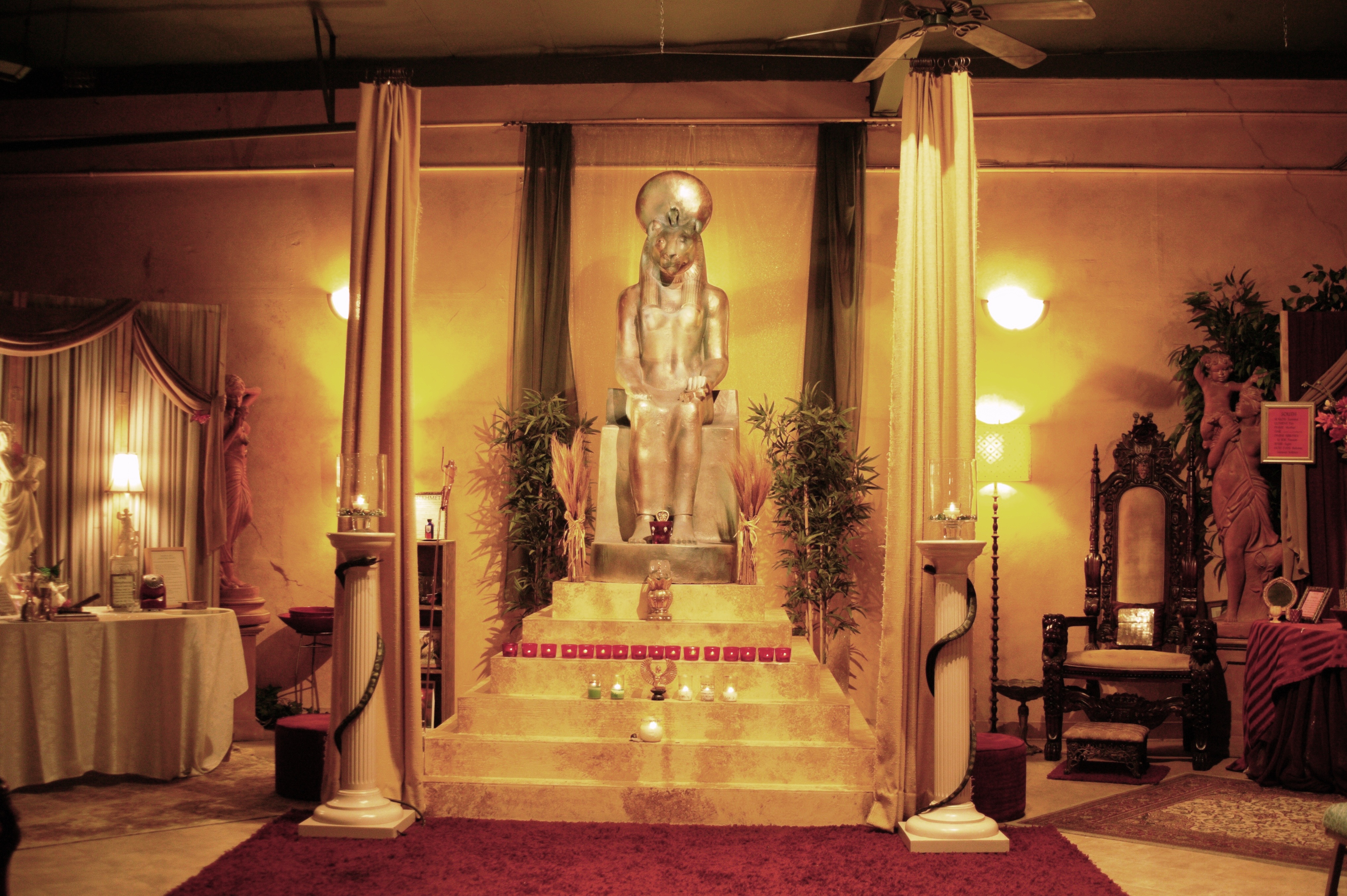 Toward the central area of the space, there are other gathering places and rooms relating to goddesses and a permanent exhibition case dedicated to The Black Madonnas. This case holds the largest collection of Black Madonna figurines in North America. In this central space, there is also a large communal area completely draped in luscious red fabric they call the Red Tent area or Oshun's Lounge, where people are invited to sit down and relax, gather with other women, or reflect on what it means to be a woman. This space also offers guests refreshments and some small exhibition cases with information and artwork relating to different cultural deities and historic goddesses relating to womanhood.
The largest space of the MOW is in the far back — the Main Gallery, or Sanctuary. As you enter this 1,600 square foot main room, you must cross a bridge with water features surrounding it, as if you're crossing over into another realm, a sacred space. This space is often used for events, classes and ceremonies with exhibits/altars in all four corners, relating to the four quarters and four elements, taking root in Pagan traditions. The four corners also serve as altars for the four female archetypes in Goddess Spirituality: the Maiden, Mother, Queen and Wisewoman Crone. This Sanctuary also has a huge exhibit/altar for Sekhmet, an ancient Egyptian goddess on her step pyramid, with individual prayer candles below, for people to light in prayer.
The MOW hosts a number of events that are open to the public and some exclusive events for members or the Goddess Temple of Orange County members. The MOW is the home of the Orange County Chapter of NOW, the National Organization for Women, and the Joseph Campbell Foundation Mythological Roundtable and hosts public lectures and discussions where guest speakers come from all over the world to educate and inspire us in the areas of history, mythology and human potential. The MOW also offers Spirit Faires twice a year, where tarot card readers, healers and vendors come together for the day, offering services and connections to those who are interested – this is open to the public. They also offer a weekly gathering event and Happy Hour every Friday, where adults are welcome to come by for wine, music and fun, while MOW has readers – women and men – set up to offer readings to the public in a beautiful, peaceful, supportive environment. The MOW also hosts a number of public peace walks and Peace Suppers throughout the year.
The Goddess Temple of Orange County uses this Sanctuary space to hold their weekly services beginning at 11 a.m., where female members of the Goddess Temple gather in their spiritual pursuit of empowerment and worship – there are no men allowed at these events. The Sanctuary can be rented for private celebrations, birthdays, parties, weddings, funerals, etc, and have competitive rates and packages available.