Irvine's Best Group Fitness Classes
New Year, New You, New Work-Out Plan!
Happy 2019! With the beginning of a new year always comes new resolutions and goals. Fitness always seems to be at the top of most peoples' resolution list. However, no one wants to go to the gym alone! I am here to help jump-start your 2019 fitness goals with a list of excellent group workout classes to check out in Orange County over the new year.
Barry's Bootcamp
Barry's is a great way to kick-start your strength training into high gear. Their workouts combine intervals on the treadmill and strength training on the floor, providing a perfect marriage for your body to become lean and strong in this new year. Barry's workouts target a different part of the body every day. If you are looking to strengthen your arms, check out Monday's classes for a workout that will work on your biceps, triceps and forearms. Is your goal to gain that new year six-pack? Check out Thursday classes that will strengthen your core to the max. Barry's even has an option for those who can't stand running on the treadmill. Barry's offers it all to ensure your body has the perfectly balanced workout throughout the week.  Visit their website at barrysbootcamp.com to join the hustle and be a part of the Barry's Team.
Website: barrysbootcamp.com
Location: 6260 Scholarship, Irvine, CA 92612
Orangetheory Fitness
For a more competitive edge in the new year check out Orangetheory Fitness. What sets Orangetheory apart from other studios is that you can see your fitness stats right in front of you. Orangetheory uses special monitors to help track your heart rate and performance in real-time, while you work with the class to reach your fitness goals. Coaches will help push you to the limit to achieve speed and strength throughout the one-hour workout. With a combination of running, rowing and floor training, expect to be burning calories days after your workout is over.
Website: orangetheoryfitness.com
Locations:
5675 Alton Parkway, Irvine, CA 92618
3201 E Pacific Coast Hwy., Corona Del Mar, CA 92625
2865 El Camino Real, Tustin, CA 92782
1040 Irvine Avenue, Newport Beach, CA 92660
Motion
Motion Fitness Group combines the love of having a personal trainer with being in a group class environment. Motion defines their workouts as H.I.R.T which stands for High-Intensity Resistance Training. Now, don't be intimidated by how that sounds. Motion is only a 50-minute workout and is designed for all fitness levels to help you not only build confidence but also build muscle. Prepare to push yourself on the battle ropes, sleds, weights and other conditioning tools that will bring out your inner Serena Williams or Lebron James.
Website: motionfitnessgroup.com
Location: 2737 Campus Drive, Irvine, CA 92612
Newport Peach
Are you someone who is looking to switch up your workout routine in 2019? Newport Peach brings a modern twist to the classic aerobic workout. Their classes combine traditional high step, ballet work, mat Pilates and weights for an ultimate high-energy full-body workout. These workouts will help improve your coordination and strength while boosting your lung and heart function. Newport Peach offers three types of classes for all your needs. They have PeachStep, a class that combines step aerobics and Pilates. There is also PeachPhysique, a class that intermixes kettlebells, cardio and Pilates. Lastly, Newport Peach offers Buti Yoga, a one-of-a-kind class that combines yoga with cardio-infused tribal dance.
Website: newportpeach.com
Location: 2400 West Coast Highway, Suite S. Newport Beach, CA 92663
Pure Barre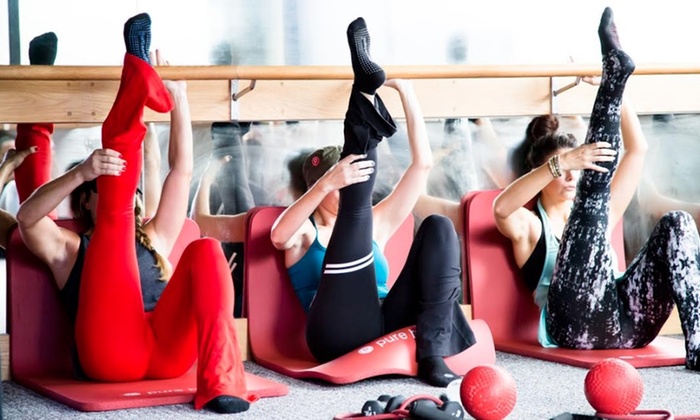 Looking for a workout that is low impact, but still gives your body killer results? Pure Barre is perfect for you. The 45-50 minute class incorporates a ballet bar and other light equipment to target muscles you never knew existed. Don't be fooled; the small isolated movements will make your muscles shake and become stronger than ever before. They even offer a beginner class that will introduce you to the basic techniques and movements of a regular Pure Barre class. Or are you looking to push your body further within the Pure Barre experience? Check out their Pure Empower class. This class is more cardio based and will have your blood pumping with different interval workouts.
Website: purebarre.com
Locations: 
6791 Quail Hill Parkway, Irvine, CA 92603
Pacific Plaza Shopping Center, 234 E. 17th Street, Suite 116, Costa Mesa, CA 92627
17245 17th Street, Tustin, CA 92780
Bounce Society
Bounce your way into the new year with Bounce Society in Newport Beach. This trampoline-style cardio class will have your heart moving and grooving while giving you the ultimate lower-body workout. Bouncing on a trampoline may sound intimidating, but don't worry, Bounce Society has the perfect class for everyone. Every first-timer must take a Bounce prerequisite class called Bounce 1. Here you will learn all the techniques and moves to have you bouncing on to more advanced and high-paced levels. Bounce Society also offers muscle sculpting classes, barre classes, dance cardio and classes that combine all these aspects to give you the ultimate full body workout.
Website: bouncesociety.com
Location: 1725 Monrovia Ave, Suite 43, Costa Mesa, CA 92627
Freedom Ride
Hop in the saddle and join the spin movement in 2019. Freedom Ride is a 45 minute spin class that will have you dancing in your saddle to the beat of the music. The workout incorporates rhythm-based movements that will have you thinking you are dancing in a club rather than working out. Freedom Ride encourages riders of all levels to come take a class and experience a total body and mind transformation. Freedom Ride even offers a post-class trip to the sauna through Revive Sauna Studio which is located onsite. Enjoy a killer ride and then jump right into the sauna where you can experience all the benefits of their infrared system. Freedom Ride is a one-stop shop for the ultimate detox experience.
Website: freedom-ride.com 
Location: 1000 Bristol Street N., Newport Beach, CA 92660
As you can see the options for workouts are varied and numerous in Orange County. There is something for everyone, whether you want to spin, push the weights or dance to the music. Make 2019 an excellent and healthy year by checking out one, if not more, of these classes!