In the 1950s and '60s, easy listening lounge music made a splash in record sales and cocktail bars all over the world. Although its heyday passed without much public notice, the trend of live lounge music has continued with limited fanfare in small bars and clubs. In Southern California, the scene has been kept alive mostly by music geeks and dive bars, but in the mid-1990s there were two events that helped perpetuate the long life and legacy of lounge music in our backyard – the movie "Swingers" came out and Tommy and Penny Beaudoin bought Fling Cocktail Lounge, affectionately known as The Fling.
"Swingers" helped popularize the comeback of lounge music in L.A. and O.C. and brought specific attention to one lounge music act that people went wild for: Marty and Elayne Roberts. Marty and Elayne have been playing lounge music covers in the Dresden Room for 37 years – they are still the king and queen in the Los Angeles lounge music scene and play at the Dresden Room five nights a week to this day. Once the world knew about the contemporary comeback for this type of music, more and more people, bars, lounges and small cover bands got a jolt of energy and re-invigoration that all screamed "lounge."
While the Dresden Room had the king and queen of L.A. lounge music, The Fling was grooming Phil Shane and Eddie Day as the stars of the Orange County scene. Today, every fan of local lounge music knows the name Phil Shane, and most know of Eddie Day, but it was through their gigs at The Fling that their respective careers were made and built.
Tommy Beaudoin owned The Fling for 10 years before he passed away, and was known county-wide as the "best bartender" in the O.C., having been a passionate and approachable barkeep at a variety of bars for over 40 years. His wife Penny survived him, along with their two kids, and is the current owner of The Fling. Tommy worked at The Fling for years before purchasing it from the original owners. The Fling opened its doors in 1968, with its velour patterned wallpaper, wood paneling, pin-up paintings and red details. This cocktail lounge has an aura of sensuality to it, and has had that aura since it opened. Tommy and Penny promised the previous owners that they would keep the bar the same when they bought it in 1995, and they stayed true to their word.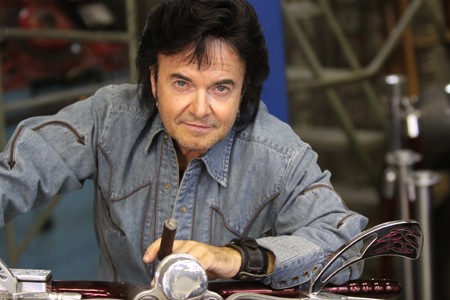 As soon as Tommy and Penny became owners of The Fling, they made nightly live music a priority and started stacking acts that they thought would be a good fit for the vibe of the bar and their regulars. Penny had a gift for finding talent and saw Phil Shane playing at a bowling alley in town. After bringing Tommy by and convincing him of what she saw in Phil, he was an immediate staple at The Fling. Playing three-to-four nights a week at The Fling at the beginning, Shane became synonymous with The Fling experience. His flashy, high energy brand of lounge covers with a sidekick akin to a karaoke machine and multiple costume changes per night makes a Shane show a versatile and energetic experience for everyone.
His look combines a little bit of Wayne Newton, Elvis Presley and Neil Diamond. He generally plays '70s Vegas-style songs, mostly classic rock and country, but isn't afraid of taking requests and prides himself of knowing all the hits from past and present. He claims that his intense song memory holds upwards of 2,000 tracks, and with a full closet behind him stocked with every kind of sequin available, Shane's energy and showmanship is only matched by that of his groupies. "Hot Damn," they scream, which is his signature exclamation and also a bedazzled detail on most Shane t-shirts and paraphernalia. It's a spirited exclamation that seems to rival the same fondness that Elvis and Johnny Cash received with their trademark catch phrases.
In 2013, Shane moved on from his regular rotation of The Fling, Harpoon Henry's, Alex's Bar and La Cave, among others. He took his talents to Nashville and Las Vegas and had regular stints at the Tropicana. Now, he is everywhere at all times. Hi wife/manager/seamstress Michlene helps coordinate and schedule gigs for Shane all over the country. Since, he's been playing at the Tropicana, Monte Carlo, The Venetian, as well as stages in Laughlin, many House of Blues venues, the O.C. Pavilion, and a number of smaller bars and lounges across the country. Shane still plays The Fling a few times a year, packing all ages into the intimate bar for his shows – he even wrote a song for The Fling to show his love for this little lounge.
Penny had seen Eddie Day, also known as Ed Chiaverini, play around town at a number of other bars and venues when she asked him to begin playing at The Fling around the same time she asked Phil Shane. Day had built a longstanding reputation as a lounge cover act at Rembrandt's, now known as Rem's, and the Saddleback Inn, along with other local bars. Day's fame, however, preceded him. His musical career began in the 1960s when he played rhythm guitar for The Lively Ones, a SoCal instrumental surf rock band that produced five albums of original and cover songs with only a few hits. The group's most famous song, "Surf Rider," was chosen for the movie soundtrack of the 1994 cult classic Pulp Fiction – more than three decades after the track had been released.
Day's Elvis-like style and soulful voice can cover any tune with ease, helping to solidify him in the hearts and minds of his fans. His adorable boyish face, jolly belly and friendly demeanor helped attract responsive and interested audiences, but his over-the-top showmanship and high energy charisma have cemented him as a staple in Orange County's musical personality and keeps bringing the crowds back for more. He has been a non-stop key component of O.C. entertainment for over 20 years, and became a favorite early on.
In 1999, O.C.-based pop punk band Lit added Day as a featured side character into the music video for their chart-topping hit, "My Own Worst Enemy," as a bowling alley attendant. The cameo in this music video speaks to the importance Day has had in the O.C. music scene – he has been respected, treasured and loved. Like Shane, Day's style of karaoke-esque performances seem cheesy and kitschy to an outsider, but this particular brand of familiar and energetic covers with a bit of live guitar details from Day make the show something worth seeing time and time again. Day plays the second and fourth Friday of every month at The Fling.
Both performers are showmen at their core. They bring a kind of friendly and flashy Sinatra or Elvis personality to an act, engaging people, shaking hands, kissing babies and signing boobs. For 20-plus years now, these two musicians have been definitive experiences for any true local, and offer an entertaining and engaging lounge music experience for every age, from 21-year-olds to 80-year-olds. The life of O.C. lounge music is strong and unyielding, thanks to Day and Shane.
The Fling is a cocktail lounge full of locals, friendly customer service and great cover bands every night of the week, open daily from 10 a.m. to 2 a.m. The bartenders and manager are fair and kind and the drinks are stiff and simple. This small neighborhood cocktail lounge is bound to go down in history for its support of local lounge singers, sensual atmosphere, quality drinks and complementary peanuts.
Fling Cocktail Lounge, 2370 N Tustin Ave, Santa Ana, CA 92705. (714) 547-8972.