OC Pride: It's Here, and It's Queer, and We're Celebrating Another Year
It's been a few years since I last attended OC Pride, during the festival's second year. I had a great time, but there weren't very many attractions or much of a crowd. I admit, I had some reservations about OC Pride 2019.
I had assumed that this year would be like the fledgling version — a good enough time, but sparsely attended and with few activities. I was, I'm happy to say, mistaken. OC Pride 2019 had multiple stages, and I caught some excellent performances from drag queen Xotica Erotica and Torrey Mercer. The corporate sponsors barely fit on a person-sized poster, and the whole event was a maze of tents. There were food trucks, photo ops and more drag queens dressed like nuns than I'd previously seen in my entire life.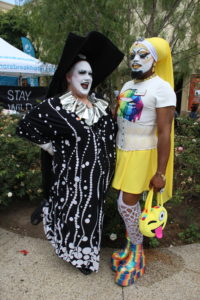 I took some fabulous shots of Sister Burna Cross and Sister Electra Complex from the Los Angeles Sisters of Perpetual Indulgence, and then headed for the nonprofit tents. I caught up with a few people representing LGBTQ+-focused nonprofits to talk about OC Pride and how they were helping the community. Priya Shah, who works with the Orange County Equality Coalition (OCEC), told me about the organization and what it's focusing on today.
I learned that the OCEC, which was founded during the fight against Proposition 8 (which abolished gay marriage after it had been legalized in California), is fighting for LGBTQ youth in grades K-12. They're also working with Youth First California to put forth an LGBTQ+ Students' Bill of Rights. While she conceded that the organization has faced some challenges here in Orange County, Priya sounded optimistic about the future. 
Felicity Figueroa, another volunteer at OCEC, offered to read me one of the children's books that the OCEC had stocked up for their mini-"Alternative Book Fair." Makhana Johnson, age 6 (and a half), sat attentively for the reading, while William Etheridge-Chang, age 6, played nearby. 
After a soothing rendition of "It's Ramadan, Curious George," Felicity and I got to talking about her involvement with other nonprofits, including the Newport-Mesa Interfaith Council. As an Irvine resident, she values any opportunity to educate people (young or old) about the different types of diversity they may encounter. Felicity told me a little more about the OCEC children's book fair (held annually), which promotes books about diverse characters that are sometimes controversial. "We thought we would do alternative books, too," she told me. "But not only for LGBT."
Refreshed, and with hope for the future, I roamed around until I heard a barbershop quartet on the main stage. After enjoying some delightful rendition of barbershop songs and doo-wop classics, I approached the group offstage. Bass singer Will Kohlschreiber ran me through the group's history. #TheAccidentals (yes, hashtag included) began five years ago in New York City with Dave Albulario and Robert Rice. Their producer had been asked to furnish a barbershop quartet for an event, and they were the hapless (or happy) able volunteers. After some local success, they headed west and picked up Will and Josh Munnell, and, well, "that's how it happens" (in Will's words).  
Bolstered by Will's enthusiasm, I bounced around the festival to take photos of revelers and talk to them about their LGBTQ pride. Ajay Parihar, a young celebrant dressed in a flag cape and a homemade Anubis-style mask, told me that Pride is about "being free, and being who you are." 
I popped over to the Latin Stage, where an exuberant drag queen was riling up the crowd and inviting a pair of good-looking young men in booty shorts onstage. The crowd was thinner over on this side of the festival, but the vibe was more intimate, and the queen was working the audience like an expert. If you speak Spanish — or even if you don't — the Latin stage is the place to be. 
After that, I headed to the LGBT Center of Orange County's tent to speak to volunteer Kade Morgan. He started volunteering in February in order to give back — as he told me, he's "not rich," but he certainly can volunteer his time, and he wanted to give what he could. "If everyone took some time out of their week to help their community," he elaborated, "we could make that much more of a difference." 
After talking to Kade and learning more about the LGBT Center of Orange County, I roamed around the festival collecting freebies — flyers, product samples and stickers from companies like Blizzard and Nothing Bundt Cakes. There were a few tents providing community services, including a Pokemon-themed one with free STD tests (because "you don't want to catch them all!").
Having enjoyed what I was seeing, I dragged an old friend I ran into over to the main stage to watch Torrey Mercer's excellent performance. Her music was catchy, upbeat and the crowd was enjoying it plenty — especially the girl she pulled onstage. I ran into a few more people I knew in the front row of the show — the openly queer community in Orange County is growing, but it's still a small world — and we danced to the beat for a while. Despite the heat, everybody seemed to be grooving.
I had prejudged what OC Pride would be, and I was shocked, I admit, to find a sprawling festival all over the streets of downtown Santa Ana. OC Pride has grown hugely since its inception, and I look forward to it becoming the hip new Pride festival in Southern California. Long Beach Pride, you'll have to step to the side. Gone are the days of commuting to another county in order to have a good time, see some great drag, and enjoy some queer pop music or doo-wop — we've got it all right here. 
Thanks to the assistance of Orange County's business (and nonprofit) community and the heroic efforts of the OC Pride organizers, what began as a small celebration has turned into a fairly large and full-fledged festival. I look forward to attending OC Pride for many years to come, and it's amazing to see how far we've come.