Puesto: From Mexico City, to Irvine, to You
Puesto is a casual and upscale establishment that promises gourmet Mexican cuisine, excellent service and a lively atmosphere. The Mexico City-inspired restaurant has six locations across California, including two in Irvine.
Different locations can offer different experiences, and we wanted to give you the full scoop on what they have to offer. To make it happen Ryan met up with Bret at Los Olivos, and Bret and her boyfriend visited their spot in Park Place.
Los Olivos
From the instant the doors swing open, the first thing that comes to mind is warmth.
The warmth of the food being cooked in the back, the warmth of the atmosphere provided to patrons and the warmth of the wait staff offering their services, all wrapping around your soul like a soft blanket that's actually a giant tortilla.
If you come on a nice, clear day like Bret and I did, you'll definitely want to grab a seat outside. That being said, the indoor seating is abundant and beautiful, and the windows, lighting, decoration and layout make it feel like you're soaking in the sun like we were.
I scanned the menu while taking in some rays, and my eyes were captured by the array of tacos offered to the good people of Irvine.
You want some duck confit in there? You've got it. Filet mignon? Coming right up! Potato soyrizo? Sure! Who said vegetarians can't have fun with the rest of us?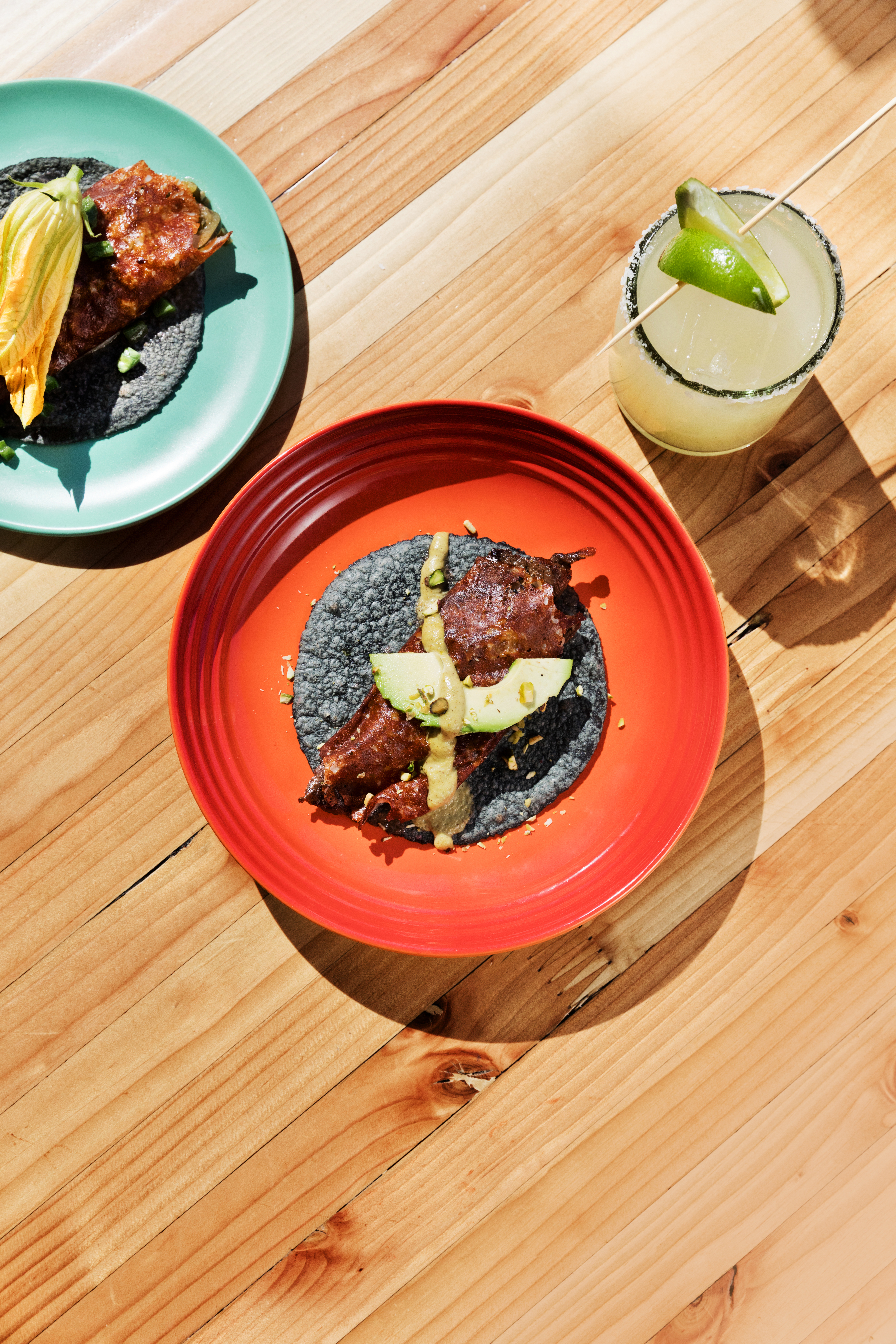 As a matter of fact, vegetarians can enjoy Puesto's tacos in two mouth-watering ways. There's the potato soyrizo, which comes with mushrooms, tofu, tempeh, Yukon Golds, hibiscus and chipotle tinga, avocado and cilantro.
Then, there's one that especially caught my eye: the spring pea.
Coming with a combination of sweet green peas and snap peas, along with lima beans, roasted carrot habanero salsa and micro watercress joining the party, this was a fascinating offer to say the least. "But wait," I thought, "How is this all going to stay together in the taco?"
I had the same questions about the potato soyrizo option as well, but it turns out I'd been ignoring the very first ingredient listed on both. What is it, you ask? Fried cheese.
This worked like a charm. I ended up with the chicken verde and chicken al pastor, which Bret recommended, along with the intriguing spring pea. Both deeply impressed me in different yet equally wonderful ways.
The chicken verde offered refreshing, nuanced flavors throughout, and the chicken al pastor shows how the little things, like their piña habanero pico, can take things to a whole new level. It's no wonder the latter was named "Best Taco" at the annual Tacolandia festival.
Lastly, the spring pea caught me entirely by surprise. Every one of the elements danced with each other in perfect motion, like they were performing at a Britney Spears concert.
The salsa combined with the cheese was emotionally overwhelming, and my tastebuds are better for having experienced their song. The peas were fresh in all their forms, and the lima beans stole a bit of the show for themselves as well. It was a balanced and refreshing taco that I would recommend to anyone, vegetarian and carnivore alike.
Park Place
After a long, grinding semester, my boyfriend needed a break.
It was my turn to sponsor a day out, and considering how dark the circles under his eyes were, I knew I needed to pick something especially diverting. Tacos certainly were going to be necessary, and unusual cocktails with exotic flavors would also be in order. 
I'm not of an income bracket that would really allow me to refer to myself as a sugar momma, but at $6 a pop, the tacos at Puesto Park Place at least qualify me for some sort of title — perhaps "agave auntie"?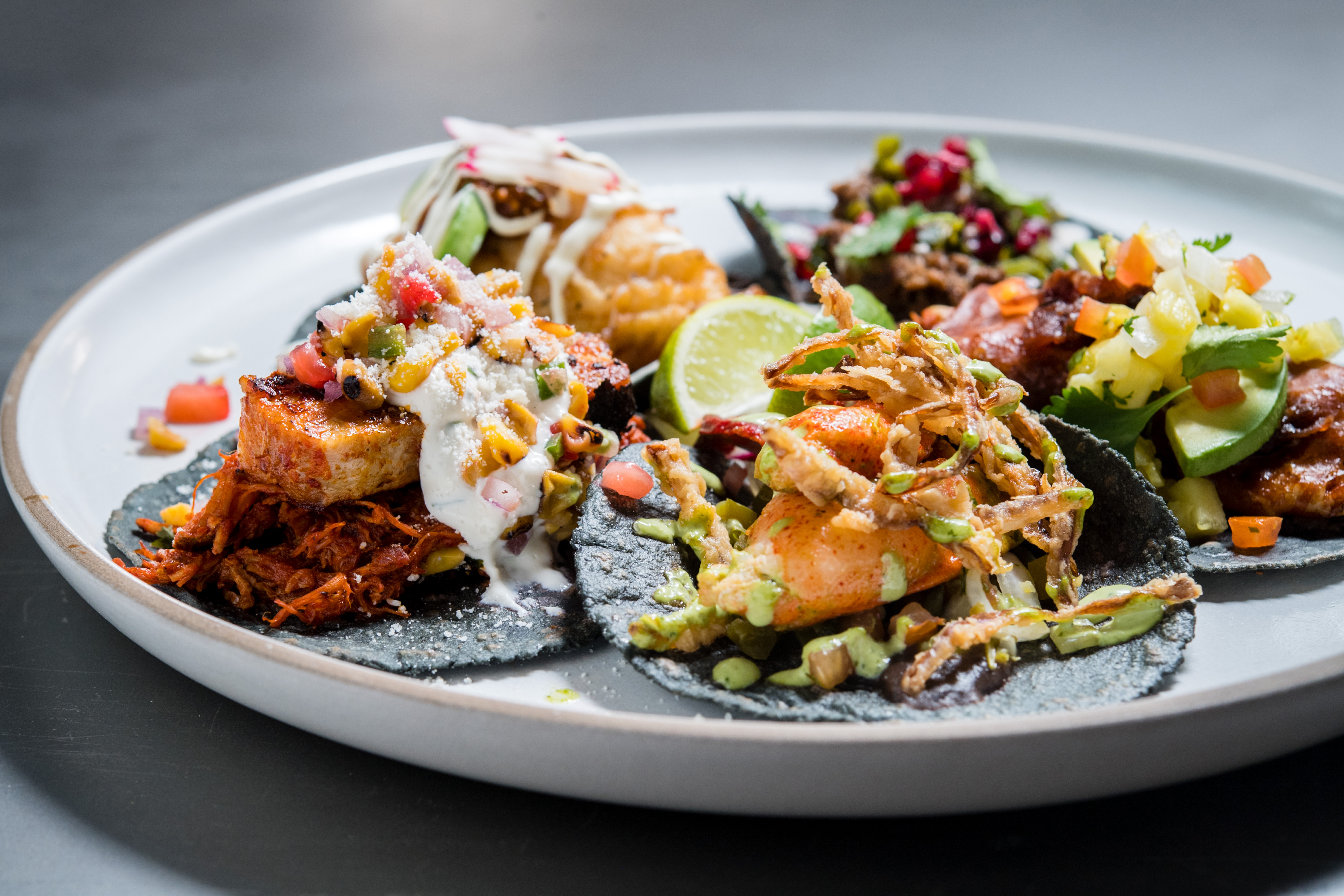 When the two of us showed up, we were sat on a sunlit patio with a high hedge bordered by light-colored wood benches. Service was quick and friendly, and I had to ask for time extensions when they inquired about our order.
In truth, I had decided, but I needed more time to enjoy the chips and fire-roasted salsa. Our waitress happily obliged when asked for a refill and brought back not one, but two, extra ramekins of salsa with a wink.
The menu was packed on both sides, with one side listing a dizzying array of alcoholic options.
As for the other side, there were plenty of exotic options on the taco menu alone, and it was difficult to decide between the monthly special — the bright, tomatillo-infused chicken verde taco — and the more unusual duck confit taco. It was tempting, but we ultimately went for the chicken verde.
Though it was small (average street taco size), it was vibrant and juicy. My boyfriend declared it to be hands-down the best taco he had ever eaten, worth every penny of the $6 I had paid for it.
I felt the same way about the other tacos we had ordered. Our second pick, the chicken al pastor, was cushioned by a tortilla blanketed with a thick interior sheet of fried cheese and given additional flavor with a tangy sauce of hibiscus and chipotle.
Our final taco, the fully vegetarian potato soyrizo taco, was similarly wrapped in cheese. Despite its visual similarity, they were both different, though both delicious. The potatoes went well with the hearty cheese, and the medium-spicy soyrizo was a great addition.
Around that point, our waitress came by again to ask us if we were enjoying our food. We offered an enthusiastic yes, and she suggested we try her favorite cocktail, which isn't on the menu but does have its own name — the Mezcalito.
We were glad we took her up on that. It smoothed out the lingering stresses of deadlines and papers from my boyfriend's head, and the bright, citrusy and smoky flavors made for a unique and delicious experience.
The Mezcalito, from what I gathered, is made from tamarind and some sort of special mezcal. That's a liquor that I normally don't touch, but it was paired well, and even I could appreciate it in this context.
We considered following it up with the waitress's other suggestion, the Fruit Cart Margarita, but as good as it sounded — aged tequila spiced with tajin and chamoy, covered in tropical fruit — I had to pass. That mezcal was already getting to my head.
I would implore all of you to save up some scratch and give one of Puesto's locations a try. If you ask us, Puesto is yet another jewel in the culinary crown of our town.