Setting Dreams Afloat With Art in Irvine's Cadence Park
As you approach the fully-loaded lavishly contemporary Cadence Park in Irvine's Great Park Neighborhoods, you will be wowed with the amenities and incredible care taken in creating such a lovely and modern community park – but the pièce de résistance of this gem comes in the form of two bright and beautifully painted murals in the pool area. As you circle the park, you can see them peeking from in between the slatted metal fence – a beautiful young girl playing with paper boats by the water – you can almost hear her humming a little song, entranced as she plays in her imaginative world, on the edge of a vast body of water. Across from her are painted relics of other folded paper boats made of sheet music set afloat in the water – like dreams they float steadily and constantly nearby. These two murals enchant this area, specifically made for families, and both are painted by the talented artist Nate Frizzell.
In a city where new residents are planting roots and building homes, the parks in Irvine have become a major focal point for families and friends, the development projects and the community's identity. There are small parks about every half mile in the neighborhoods around the O.C. Great Park, each with their own style, amenities and aesthetic. Additionally, there are more expansive parks every couple of miles with larger courts, playgrounds, pools, meeting areas and other fun offerings. These parks are the central community gathering areas where people make friends, kids play, and parties and special celebrations occur – they are the glue that binds theses new communities together.
Irvine's reputation as "the beige city" is slowly being challenged and changed from within. The city's beige euphemism refers to the lack of unique qualities, color and individuality across neighborhoods. This is not the case anymore. New developments in Irvine are being built swiftly, but with every possible amenity included. Each new neighborhood has different characters and home styles available to encourage diverse tastes, needs and personalities to come make a home in this burgeoning area. Beige is no longer a requirement. Space, comfort and creativity are now taking the lead in the new neighborhoods in Irvine, and encouraging creativity and artistic expression is a part of the new city.
With new city government officials in place and new neighborhoods that have found a way to continue the idea of the utopian master plan of Irvine's beginnings while remaining diverse and inclusive, this city is opening its arms and mind to accommodating and representing every type of person, creatives included.
In Irvine, public art is a rare sight and murals are even more infrequent; however, since the temporary 15,000-square-foot Tilly's mural by Zio Ziegler in 2015, the community has openly embraced and supported the idea that public art may not be something it needs to shun. In small doses at first, with high schools and elementary schools donning their mascots and team spirit through paint on walls, the city is slowly coming alive with public art. Now, other areas in Irvine are embracing the creative class and commissioning murals in private and public parks. The latest artistic addition to Irvine's public art collection is in Cadence Park, inside the Great Park Neighborhoods. These two murals, created by L.A.-based artist Nate Frizzell and coordinated by LeBasse Projects in L.A., are gorgeous realistic murals that explore creativity, innocence, play, child-like imagination and the art of music.
Nate Frizzell is a well-known and respected painter and muralist in L.A. who has decorated parks and walls all over the world. A graduate of Los Angeles' Otis College of Art and Design, Frizzell has drawn great international acclaim for his work, showcasing in London, Spain, the Philippines and across the U.S. in New York, Los Angeles, San Francisco and Miami for Art Basel. His evocative realistic painting style is figurative in nature but always has a nuanced emotional aspect to his creations, often evoking a story and encouraging human engagement.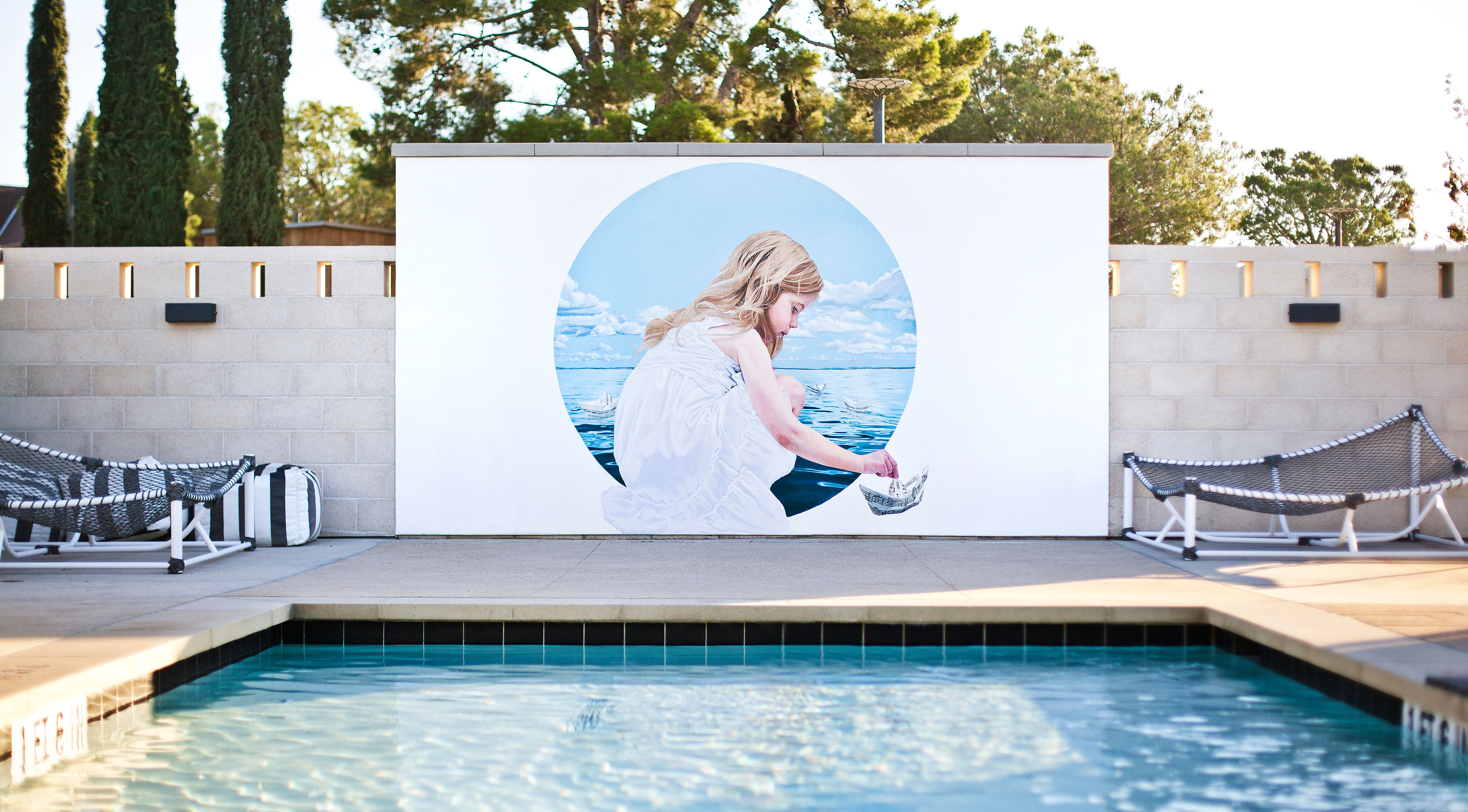 The Cadence Park mural project includes two medium-sized murals that surround the children's pool and barbecue/gathering areas. This is just one site-specific art installation planned for this public park. LeBasse Projects is helping the Great Park Neighborhoods commission eight site-specific and permanent public sculptures and several mural installations as a part of a community Art Walk and will be integrated into the landscape and pathways, all centered around or in Cadence Park. This will be an open park area connecting the neighborhoods together and also connecting to the Great Park. The development of this Art Walk and the many art installations began this summer and will continue through fall of 2019.
These public art projects are helmed by FivePoint, whose specialty is creating large mixed-use communities across California. Great Park Neighborhoods is an ever-growing collection of communities, each anchored by a uniquely designed park, intended to be shared by the residents of the greater neighborhood.
Frizzell's murals are within the pool area of Cadence Park and can only be accessed through gates requiring a FOB access key. But the staff of the community information center right next door is more than willing to allow access to anyone interested in seeing the murals.
The composition for the murals is breathtaking – beautiful, innovative, sweet and familiar. The artist wanted to combine all the elements of the area into one visual story without being too literal, leaving room for the viewers' imagination to help create a story that was unique to their memories and their personalities. "Because the painting surrounds a children's pool in Cadence Park, I thought it was fitting for the mural to feature a child pushing her songs out to sea and having them be taken away by the water," Frizzell said.
The young girl pictured in one of Frizzell's murals at Cadence Park is a larger-than-life-sized sweet little blonde girl in a white dress. She kneels down to the water's edge to cast her dreams and songs – folded into little boats – out on the water. She is locked in her own creative world, kneeling into the circular trompe l'oeil window that looks out to the ocean. Looking past her out the window, we can see other little song boats, perhaps dreams or songs from other small children who had come to this magical window to release their dreams into the calm and vast blue ocean. Her dress overlaps on the outside of this window's ledge as she preps another song boat for its journey into the unknown.
Across from this area is the adjoining mural, a large-scale close-up of three song boats out at sea. The paper boats in this mural float strongly on the water with heavenly cumulus clouds in the distance, as if they were large ships unphased by the slow-rolling movement of the ocean. With dynamic light and shadow and impeccable detail to the material nature of paper boats, these little ships look simultaneously delicate and impenetrable.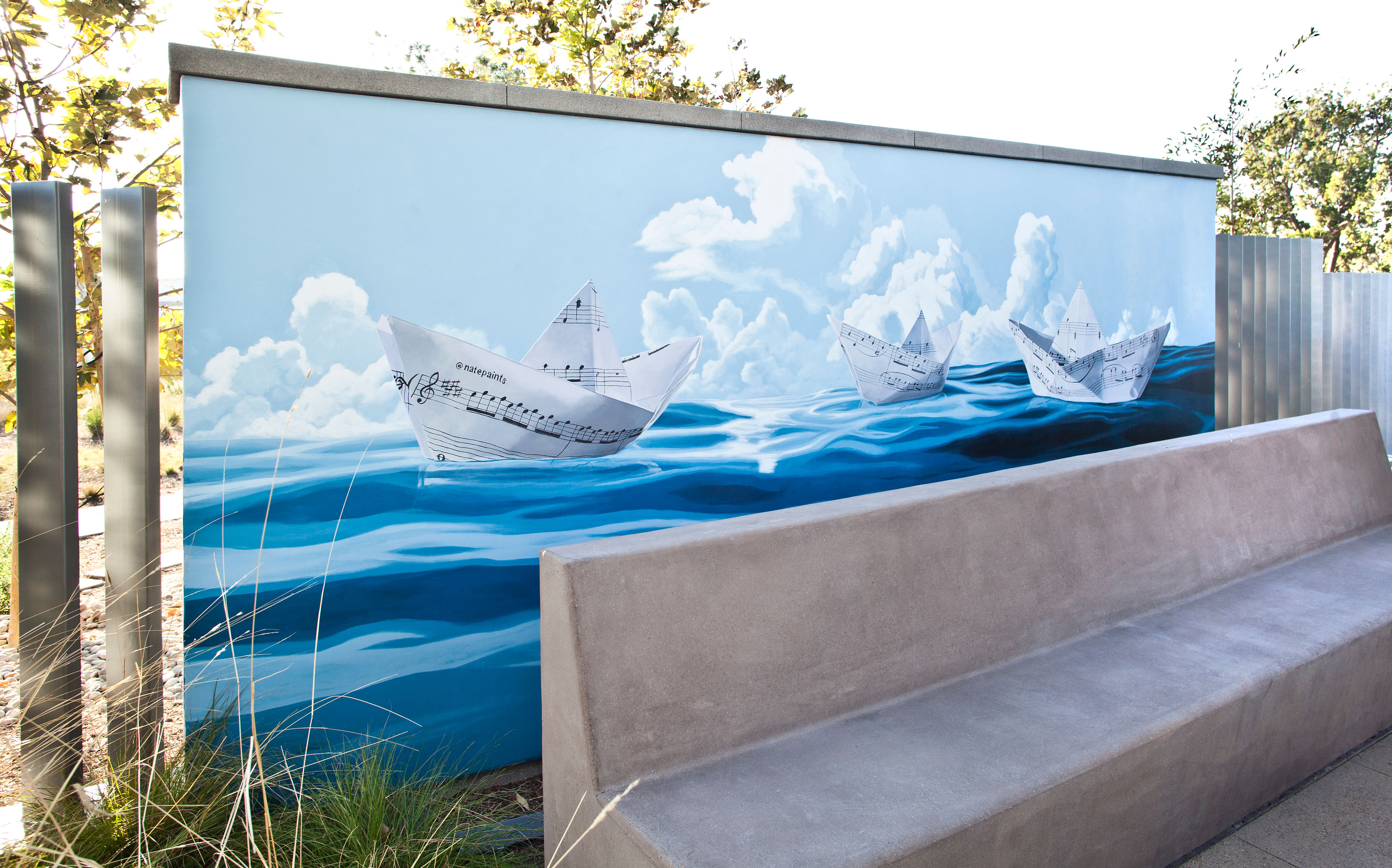 Since a "cadence" is the sequence of notes or chords that signifies the close of a musical piece, it is no surprise that the Cadence Park murals make clever use of this musical reference. Frizzell finds something meaningful in creating art in a park that references music. "I think music and art have always gone hand-in-hand, inspiring on their own as well as when combined," Frizzell said. "Before they're too jaded by life, I think children are more open to the possibilities of the world and are able to use their imagination more freely. Art and music can both encourage and feed that creativity and imagination and can also be a good reminder to adults."
Although Frizzell is passionate about creating art that allows people to create their own interpretations and significance, he hopes that these painterly murals, which each took about 10 days to complete, empowers viewers to feel something, to remember something and to be inspired. "I hope people viewing these murals get a sense of adventure and imagination that I used to feel when going to the park," he said. "From there, I hope they can find something that speaks to them individually."
The power of public art is fascinating and an important aspect of living in a creative community. Murals build a sense of community and are a welcoming and creative way to express spirit, openness and acceptance of individuality. Many cities all over the world have transformed their communities through the implementation of public art and embrace of artists. Murals and public art installations of sculptures are beautiful and enchanting forms of creative expression that invite people to engage with them. The largest value of public art, however, is in the journey created by the art – the conversations we create, the connections we build and the relationships we foster along the way; through, with and because of the art.
Frizzell agrees that public art is paramount to a community, and its accessibility for so many people is one of the most important reasons why he loves making murals. In art galleries, the audience is limited to those who know of those galleries, like those galleries and venture into galleries. The sterile and intimidating environment of the art gallery only allows a small amount of people to ever see the work in person – it's different with murals.
Frizzell's first murals he created were a part of an art festival in Manila, the capital of the Philippines. He painted life-sized kids all around town, while other muralists and street artists were covering massive walls with larger-than-life-sized scenes and compositions. Frizzell's life-sized kids, however, got more human interaction than any of the larger pieces, helping to engage the public with his figures, encouraging playfulness and imaginative interaction with art. "I started to notice people walking up to the previous walls and interacting with them and taking photos and starting a dialogue," he said. "The other artists' walls were amazing, but you had to stand a block away to see what was going on. With my 'little' paintings, you wouldn't even know they were there unless you just happened to be walking by, but when you saw them you could walk up, touch and even be a part of the work."
"I liked the idea of art finding you and not the other way around, and giving anyone the ability to connect with a painting and hopefully feel something or be inspired," Frizzell said. "I've gone on to paint much larger two- and three-story walls since then, but those first little murals gave me an idea of what public art can do for a community."
Since those first murals, he's gone on to create a giant portrait of a beautiful woman wearing a crown of flowers and antlers with graffiti on them – the graffiti is in varied styles and is human-scale, wrapping around the antlers – taking up the entire side of a three-story building in Jersey City, New Jersey. He painted a series of life-sized realistic children painting and playing with colorful artificial butterflies and other animals on many walls of a school near Adventure Park in South Whittier. He's created a massive mural on the side of the Art of Acting Studio in L.A., showing a surreal scene with a bird-sized kid (still much larger than life-size) sitting on a perch in front of a graffiti-covered birdhouse while a giant-size pigeon aggressively stares at him. He's painted a life-sized young girl covered in butterflies – on her dress and flying all around her – on a column at the Montclair Place mall in Montclair. Last year in Downtown Long Beach, Frizzell participated in the Pow! Wow! Long Beach street art festival where he painted an oversized young boy dreaming and looking up into the sky as he sits perched on a false ledge in front of a trompe l'oeil circular window with birds on and around him. His shirt has wings on the back, further exemplifying his longing to fly that also keeps him teetering between a human boy coming to grips with gravity and angel missing the heavens.
Frizzell's murals consistently inspire amazement and fuel imagination but do so in an approachable and relevant way. His work is honest and realistic, but with an additional compelling element of imagination. Sometimes his pieces are surreal and incorporate relics of urban living, mythological power, mystery, and the relationship between humanity and the natural world. His public art pieces engage viewers with the feeling of being human through scale and realistic representation, but utilize other details to signify the artifice of the mural, playing with perception, material, surrealism and imagination within the scenes he paints. This playfulness pushes and pulls on how we associate with images, with the figures and compositions he creates as it shapes the meaning for each viewer specifically. The details and larger compositions are whimsical and melancholy, swaying back and forth between dream and reality. He emphasizes the human experience in his compositions, tugging on the heart strings of nostalgia and fictional desires while playing with the nature of our human size in relation to other living creatures, what we make and see and do, and how we relate to real objects.
Frizzell's Cadence Park murals recall the nostalgia of being a small child and playing in your own imaginative world, making up songs, and sending wishes or dreams out into the universe to live on. The little girl featured could be anyone. Although created with painstaking detail and clarity, this little girl is representative of any young child or child-at-heart, finding space to dream and create; sending their dreams out into the abyss with hope and magic. These murals also inspire children to play, explore and create, giving them recognition of their own existence while allowing them to consider an adventure with water, music and imagination. By associating with the child in the mural, kids may feel encouraged to make up stories and songs, learn how to fold paper boats and how boats are able to float with the science of gravity and buoyancy while they build their imagination and creative abilities.
These murals are lovely decorations for the pool area at Cadence Park, but they are much more. With Frizzell's striking talent and techniques, these murals have the ability to inspire and evoke, giving us here in Irvine the gift to dream and to cast out our dreams into the world so that they may live on and inspire others, just like these murals.
The city of Irvine may have a less-than-artistic history at large, but things are changing in Irvine, and with those changes perhaps the original goal of building an inclusive and utopian master planned city is finally coming to fruition, albeit with a slightly more flexible and creative edge to it.