The Smashing Pumpkins and Noel Gallagher's High Flying Birds Keep Fans on Their Feet
Irvine's FivePoint Amphitheatre has been keeping the hits coming. For its latest hurrah, on August 29, the venue hosted the triple bill of the Smashing Pumpkins, Noel Gallagher's High Flying Birds and AFI. For the Pumpkins, this tour is sort of a coda for last year's tour in support of their 2018 album Shiny and Oh So Bright, Vol. 1 / LP: No Past. No Future. No Sun. Whereas their shows from last year's tour lasted somewhere in the neighborhood of three hours, this time they tailored their set down to about an hour and a half with an emphasis on their biggest hits.
The show began with a short set from AFI. For the duration of their 30-minute set, the alternative rockers from Ukiah, California, whose song styles range from emo to post-hardcore, had their energy turned up to 11 with lead singer Davey Havok running around the stage as he alternately squeaked and growled to punctuation his vocals. AFI's eight-song set featured a cross-section of songs from their catalog as well as "Get Dark," "Back Into The Sun" and "Trash Bat," from their 2018 EP The Missing Man.
After they left the stage, much of the audience filed into the venue's fairground-like outer area to shop for merch, frequent the food truck mini-armada, hit one of the Porta Potty zones, learn about the Billy Corgan-endorsed marine wildlife conservationist organization Sea Shepherd, or take selfies in front of one of the concert veneers. More than one late-arriving audience member was heard to exclaim, "Is AFI over already?!?!"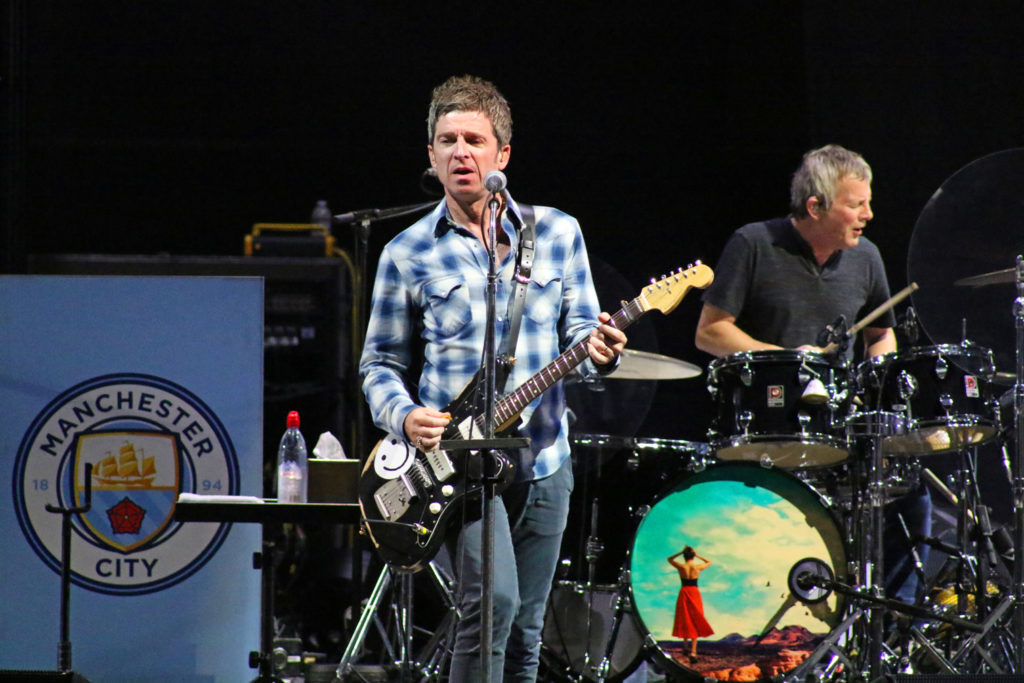 At 8 p.m., Noel Gallagher's High Flying Birds got things cooking onstage. The entire set was great, and virtually every single song was met by the cheers of an enthusiastic audience. Admittedly, some members of the crowd were so wired — presumably on enthusiasm — that they'd started dancing and jumping frenetically before Gallagher had sang his first note, and they continued in that fashion until the Pumpkins ended their set a couple/few hours later. In addition to the songs from the band's own catalog, fans of Gallagher's former band, Oasis, were given their fix.
Gallagher introduced the Oasis songs with some of his characteristically colored banter. "I'm a grumpy old fucker, and I need self-indulgence," he said in reference to the High Flying Birds songs he'd played. "Now I'm going to do something for you, you lucky bastards." Following that introduction, he played "Wonderwall," "Little by Little," "Stop Crying Your Heart Out," and "Don't Look Back in Anger." Most of Gallagher's hour-ish long set was comprised of songs from his 2017 album Who Built the Moon? including "Fort Knox," "Keep On Reaching" and "It's a Beautiful World," which was especially good. Topping it all off, the band performed two of their 2019 releases "Black Star Dancing" and "This Is The Place."
For the duration, most of the house remained on their feet, dancing and holding up their cellphones to film the show. The band finished their set with a respectable performance of The Beatles' "All You Need Is Love." 
The Pumpkins started their set at 9:30 p.m. with their hits "Today" and "Zero." For song number three, "Solara," from their new album, lead singer/songwriter Billy Corgan was joined by a child in pajamas and protective headphones. Also onstage, of course, were the rest of the band members: James Iha (guitar), Jimmy Chamberlin (drums), Mike Schroeder (guitar), Jack Bates (bass) and Katie Cole (keyboards). More prominently, there were three very large inflatable characters onstage as well; throughout the show, these spun around to reveal different color schemes and lit up via numerous colorful points of light.
The tone of the show varied. Many of the songs were characteristic of the band's early, heavy guitar work, such as "Bullet with Butterfly Wings" and "Cherub Rock," but some of the organ-heavy numbers, like their cover of James Taylor's "Fire and Rain," wove a more ethereal sonic tapestry. Throughout it all, the band was in great shape, and though their audience banter had neither the earthy nor caustic tones of Gallagher's banter — Corgan even sanitized his demonstration of his middle finger by contextualizing the gesture as something that will become a meme — their set was as diverse as it was excellently performed.
Highlights went beyond the various classics from Siamese Dream and Mellon Collie and the Infinite Sadness, which also incorporated "Disarm," "1979" and "Tonight, Tonight," to include the aforementioned "Solara" and "Knights of Malta," from their most recent album. Some terrific odds and ends from throughout their catalog completed the set-list; among them were "Eye," "G.L.O.W.," "Ava Adore," and their finale "The Aeroplane Flies High (Turns Left, Looks Right)."