Turn Up The Heat with Southern Spice
"You should try Southern Spice when you're in Irvine, it's really good!" "Oh man, I love Southern Spice, why haven't you reviewed that place yet?" "You know what we should get for dinner sometime? Southern Spice, that place is the best." My dear friend Bret, who also writes for the Irvine Weekly, does not mince words when praising this restaurant and wastes no opportunity to bring it up, whether we're hanging out by ourselves or with larger crowds. After some unexpectedly hectic weeks, I found the clouds in my mind parted, and in that moment, I heard Bret's voice clear as day: "Go. To. Southern. Spice." I climbed to the top of the highest mountain, and my words rang heavy through the valley as I responded: "OK, that sounds good."
It might have sounded good, but even the literal months of hype Bret built up before this moment proved inadequate in describing what was about to go down. I live about a half-hour away and had things to do around the house, so I figured I should order ahead of time and drive quickly (but safely) back home. Even though this was my only option, I was hesitant to judge a restaurant off a meal that sat packaged for up to 40 minutes before being eaten. However, I figured there are likely people doing this with their meals every day, and it might even be the only way they enjoy food from certain restaurants. 
Reassured by Bret that they would pass this test, I placed my order with a kind and professional staff member who told me my order would be ready in 30 minutes. I got there in 29, walked into their comfortable, well-decorated space, and saw my order being gently placed down to await my arrival. As I paid for my order, I decided to order a fresh lime soda to top things off, which I watched someone prepare by cutting and squeezing a fresh lime, which they followed by adding Sprite. While not initially what I was expecting, I wasn't really mad, and it tasted great. After my initial taste, though, I set it aside to be enjoyed with dinner.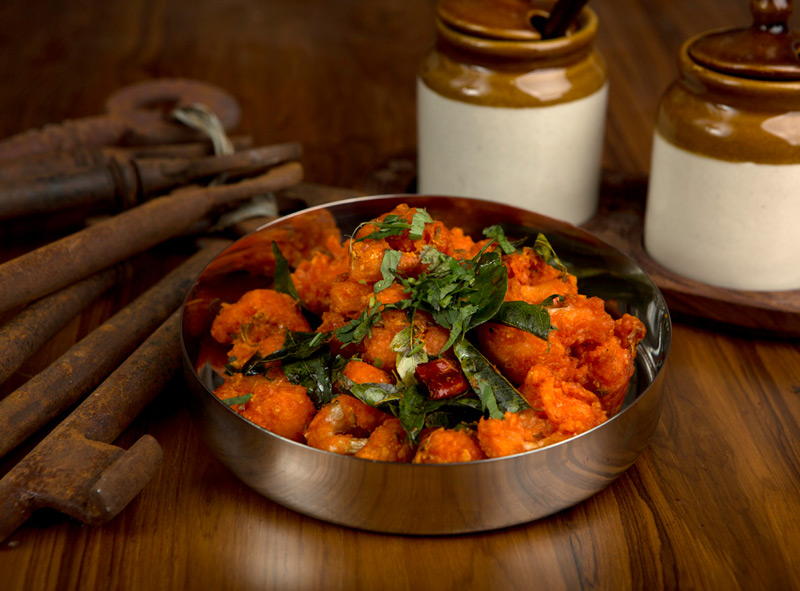 Even after the journey, thankfully, it was still warm, so I took out my chicken kempu bezule, a house specialty, and got to work. It's a masterful fried chicken dish; each of the pieces are tossed in yogurt, curry leaves, green chili and various seasonings. The yogurt definitely helped to cool things down, along with serving well as a complement to the chicken, but that didn't stop the spice from knocking me back a bit at first (I'm no expert with heat, though). It wasn't painful for the sake of being painful, though. No, in fact, I could tell more than anything that this spice had purpose. Even as I ran downstairs to grab milk, I admired the many intense savory notes that broke through while I chewed bite after bite. Despite this very notable heat, it must be said that the chicken was absolutely the star of the show. The meat was of a higher quality than any I'd had at a restaurant in some time, and the texture was near-perfect. 
Taking a break from that, along with enjoying a few sips of my lime soda, I turned my attention to the main course: the Andhra chicken curry. Another house specialty, this is a classic curry recipe prepared with what the restaurant refers to simply as a regional spice mix. At the same time, I broke out my enticing tandoori roti, a whole-wheat Indian flatbread cooked in a tandoor.
While the simple descriptions of the chicken curry might've given the impression this is a low-profile dish, that impression was quickly knocked down upon my first bite. The chicken here, like in the other dish, is nothing short of the highest grade. The bites are generous, and they're low-maintenance on top of that. The chicken also fit well into my sizable pieces of roti, which served the double purpose of soaking up sauce and spices. 
Speaking of, let's talk about those. I can't speak to the simplicity or complexity of the spice combo, but it seemed like I was finding another different yet complementary flavor every few seconds. What took me even less time to find, though, was the pronounced-yet-welcome wave of heat that came rolling along. Did I have to grab another sip or two of milk? Sure, but that didn't stop me from cleaning off my plate. 
Unfortunately, by then, I didn't have enough space in my stomach for my remaining kempu bezule, so I brought it down to the fridge and awaited lunch the next day (a few minutes before writing this, in fact). As it came, I reheated the chicken in the microwave (an oven might be better if you have the time), and I found myself falling in love all over again. The chicken still tasted just as high quality and intense as it did at dinner, and the texture was very much there. 
If you want to push your taste buds to new limits, while giving them a treat in the process, I'm honestly not sure why you're anywhere else but Southern Spice. Did it take me way too long to come to this realization myself? Absolutely, but that doesn't make me any less right. Don't be a fool like me, just do it.
"But Ryan, I'm not really a chicken fan, and you said both of those dishes were specialties. Is it even worth it for me to go?" Well, dear reader, it's basically a non-issue. Their specialties come in wide varieties, including all sorts of meats, fish and vegetables; whether you're craving foods from South or North India, street food, biryani or tandoor, they've got it for you and they do it a cut above the rest.
Check out their menu and learn more about them on their website.
Southern Spice
3850 Barranca Pkwy, Suite O, 
Irvine, CA – 92606
949-679-6914