VidCon Celebrates Its 10th Year
Various factions of youth culture have always flown beneath the radar of adult awareness. And while many YouTube personality channels earn their youthful creators tens of millions of dollars every year, a majority of people remain unaware that such communities exist. VidCon is the premier convention for fans, creators and industry players of the online video community to mingle, shop for new tools, meet famous online personalities, learn how to create and/or improve their own programming, attend panels on business strategies, and more. Over the weekend of July 10-13, the Anaheim Convention Center was flooded with tens of thousands of attendees, who participated in VidCon's 10th year of bringing members of these internet communities together.
In his welcoming remarks, VidCon co-founder Hank Green reminded attendees about the enormous impact of online communities and pointed out that opportunities for creating powerful brands are ripe for anyone's taking. Recalling where the community was during the first instance of the convention, Green pointed out, "Audiences who had never had content made for them were suddenly seeing themselves represented in content. Independent creators could take risks that major media companies never could. New genres popped up like popcorn. And as audiences and communities gobbled it up, this open content ecosystem took over the whole dang world."
Green went on to explain how the community dynamic of open online platforms has essentially remained the same in the 10 years since the first VidCon. He revealed, "…though things have changed a lot, the relationship between creators and their communities reigns supreme… in many ways, we're all creators. Whether it's on Instagram, YouTube, Twitter, Facebook, Twitch, TikTok, Snapchat or any of a dozen other platforms, the door is open for us all to make things."
Essentially, the four-day convention consisted of talent showcases, games, a respectable amount of product and service vendors, and three tracks of panels. The programming tracks included: a community track for fans; a creator track for all levels of content creators; and an industry track which catered mostly to advertisers, production companies and other industry players. As for the community and talent showcases, they mainly appealed to the youthful demographic of the convention, which was the majority and principally composed of kids aged 12 to 16. Themes of the many community track panels included: beauty tips, ideas for healthy lifestyles, pet talk, food-related topics, animator showcases and LGBTQ awareness. 
The creator tracks centered around both business-minded and technological advice for content creators. One session, which was hosted by Jazza (Josiah Alan Brooks), an Australian YouTube personality, artist and animator, provided a tutorial on how to create YouTube content — from start to finish — using a smartphone or a tablet. Another session, hosted by Devin Weber (VP of operations at Braille Skateboarding) was a nice primer to introduce budding, young entrepreneurs to their available income avenues, in the event that their content is a hit. Those avenues included: creating special membership channels (using platforms like Patreon), selling branded merchandise (through the use of on-demand printing companies), cross-marketing with big companies, and maintaining an additional presence on new platforms such as the Firework app. The rest of Weber's presentation was centered around teaching creators how independent businesspersons should best navigate the land of the taxman, who is always waiting for his/her cut as soon as profits start rolling in.
Moving on to the industry tracks, the subjects generally ranged from advanced business models and marketing strategies to security considerations within an ever-expanding virtual realm. In fact, one of the first industry track panels of the convention focused on understanding how deepfakes (manipulated images and videos of people) are used and how folks can defend against their proliferation; that session was hosted by Sam Gregory (program director at WITNESS, a program which champions human rights in the digital age). Another, more business-centric program, called Video Ad Sequences: Critical Elements Needed for Social Campaigns That Sell — hosted by Travis Chambers (chief media hacker at Chamber Media) — detailed advertising campaign strategies for video-based marketing firms.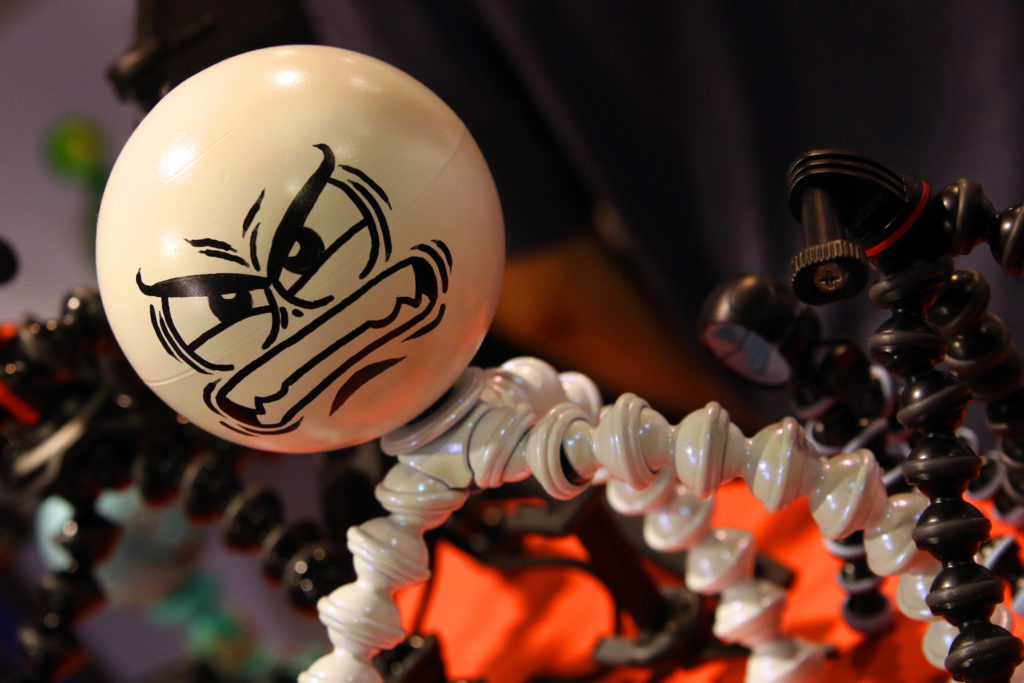 Among the exhibitors, beyond the clothing vendors, plush toy salesfolk, new platform reps and beauty product demonstrators, reps from solid tech companies like Shure and Sennheiser competed with one another by showcasing similarly designed podcasting packages, featuring high-quality mini-mics, headphones and mini-tripods designed to hold cell phones for vloggers. Meanwhile, over at the B&H Photo and Video display, a representative of the Rode company was demonstrating some impressive audio recording and mixing hardware, including a multi-track digital mixer with Bluetooth technology and cellphone inputs, which was designed with podcasters and bloggers in mind.
Up on the stages, within the expo hall, various internet celebrities didn't have to do much more than shine their pearly whites and act snarky to bathe themselves in audience adulation. One of them, Seán William McLoughlin (aka Jacksepticeye) illustrated this by goading the crowd with a bit of mindless banter. For example, when the moderator asked him what he would do without YouTube as a platform for his fame, he responded, "I'd be sad. Who [here] is sad?" The crowd cheered. A moment later, McLoughlin repeated the demonstration by teasing them with the non-sequitur, "Who likes sandwiches?" Again, a healthy chorus of cheers echoed back.
While most of the content creators of this community seem to age out at around the time they get their driving licenses, those who do commit themselves (to any extent) to entertaining and educating others, while cashing in on their success, comprise a unique social and economic stratum. The fact that youthful vision, imagination, and character drives a significant percentage of this industry may indicate that it is — to some extent — insulated from corporate assimilation; however, that and the ongoing battle over net neutrality, which helps ensure that anyone with a computer or smartphone has the freedom to forge an industry out of their own personality, are other matters. As it is, VidCon continues to hold its ground as the main beacon for fans and players of the online video community. They come here to learn; they come here to have fun; they come here to continue to develop the ever-changing, socio-technological landscape of the 21st century.