When It's Burger Time In Irvine, Who You Gonna Call?
Most people probably regard burgers as a food item that is satisfying, fast and simple. Hamburgers and cheeseburgers, alike, are frequently a no-brainer choice for dining on the run and eating cheaply. However, as in the case of many fast food menu items, there are burgers and then there are burgers. With this article, Irvine Weekly proudly presents a cross-section of the cherished specialty and gourmet burgers that can be enjoyed without leaving the city.
S'wich Bistro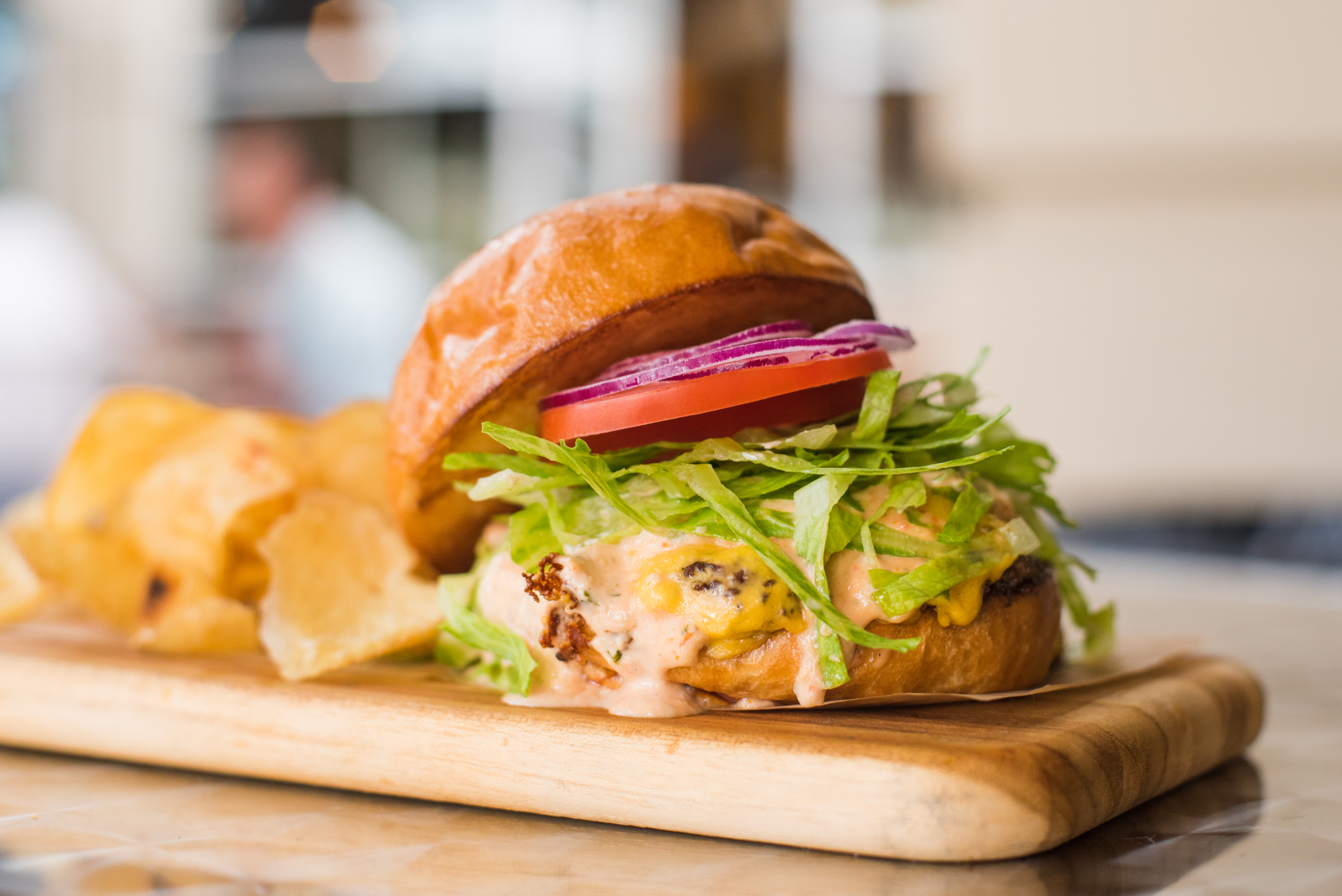 16277 Laguna Canyon Rd., Unit B, Irvine
(949) 753-0227
www.swichbistro.com
A great choice for a lunch burger – they're not open for dinner – S'wich's burgers are definitely on the gourmet side. Check this out: Their "Loaded" burger features house glazed bacon, bleu cheese, caramelized onions, wild arugula, house Thousand Island dressing (aka "wink wink" house Thousand Island), and it is served on a potato bun. For the non-carnivore, their "Veggie Burger" is a "Sonoma style" patty with quinoa, legumes, goat cheese and cranberry with pesto, tomato, spring mix and red onions. There are other burger options on the menu, as well as an extensive and highly regarded breakfast menu, but we believe that the above descriptions should give you an idea of what you're in for if you should choose to accept this mission.
The Burnt Truck
(949) 421-8900
www.theburnttruck.com
You guessed it: This is a food truck. Their menu is not that extensive, but over 9,000 people keep track of them on Twitter – most likely because of their Angus beef sliders, which are served in a couple of styles: Cheeseburger and Mini Mac. Both options of their little-in-size / big-in-taste burgers include American cheese and grilled onions; the former is served with an avocado spread and the latter features homemade Thousand Island, shredded lettuce and pickle. They both go great with an order of the Fried Mozzarella, which is served with basil aioli and tomato jam.
The Cut
3831 Alton Pkwy., Irvine
(949) 333-3434
www.thecuthcb.com
The next item on our list started as a food truck in 2014, and, after a successful three-year run, opened a brick-and-mortar shop, where the burgers now wait for you to come to them. Their menu is the result of the founders' simple ethos of wanting "to deliver simple burgers without all the gimmicks and overly complicated toppings," and the culinary acumen of the world-class Chef Andres Dangond, as stated on their website. Their truck still stalks the streets of Orange County in search of hungry diners, but if you venture into their restaurant, we recommend the Savory Cut, which includes bacon relish, swiss cheese, aioli and "3,000 Island." Or, if that's "overly complicated," the Original Cut, with American cheese, pickles and Cut sauce should do you just fine. Otherwise, there are other options, including a build-your-own burger choice.
Burnt Crumbs
8549 Irvine Ctr Dr., Irvine
(949) 502-5998
www.websiteburntcrumbs.com
While some people swear by Burnt Crumbs' unique menu items such as the Spaghetti Grilled Cheese (you heard me right, Pilgrim: Spaghetti Grilled Cheese sandwich), that's not what we're about in this article. So, let's talk about the Biggie Mac. This mammoth specimen of an Angus burger is comprised of two beef patties, American cheese, Mac sauce, diced onions, house pickles and lettuce. Sound similar in name and description to a cornerstone of a certain chain burger restaurant? Maybe so, but understanding the distinction is what separates the men from the boys. Although Burnt Crumbs does offer hand-cut fries, we recommend a side of the hand-cut chips, which are served with sour cream and onion dip.
The Stand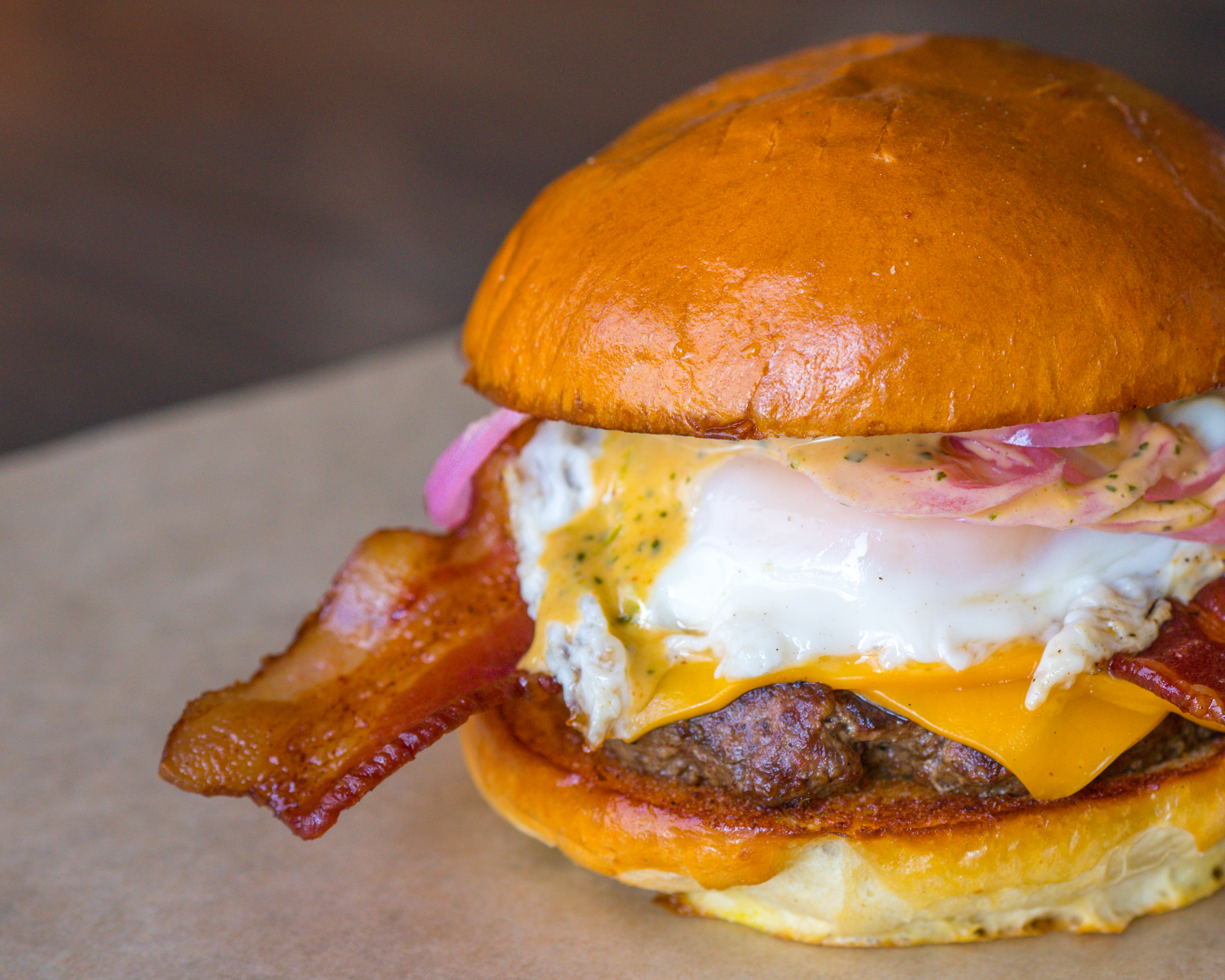 5633 Alton Pkwy., Bldg. 200, Irvine
(949) 262-9090
www.thestandlink.com
The Stand has eight locations throughout SoCal. Fortunately, one doesn't have to drive as far as Calabasas or even Newport Beach in order to order such favorites as The Onion Stack, the Ultimate Egg or the El Capitan. The excellent and friendly service at The Stand is just as renowned as their food, and the variety of burgers on their menu run the gamut from the bare-bones essential of the Stand Burger (grilled onions, lettuce, tomato, pickles and Stand sauce) to the Big Blue (bleu cheese, grilled onions, bacon, roasted tomato, arugula and bbq sauce). Vegetarians that can stand the sight of other people eating meat will probably find delight in the Veggie Goddess (veggie patty, gruyère cheese, red onion, tomato, avocado, arugula and Green Goddess dressing).
In-N-Out
University Center, 4115 Campus Dr., Irvine
(800) 786-1000
www.in-n-out.com
Although this chain originated in Baldwin Park, their corporate headquarters is in Irvine, so, you know, we've gotta own that. Plus, what Irvine resident hasn't dined at their University Center location at least a dozen times? While we don't believe that a description of their menu is required, it behooves us to say a little something about them, so we'll give a shout-out to a few of their secret menu items. Naturally, a burger ordered Protein Style (no bun) will get you through your bout with an Atkins diet; the 3×3 takes the double-double and, you guessed it, adds one more patty and one more slice of cheese; and then there's the most well-known secret menu item, the Animal Style burger (pickles, grilled onions, extra dressing and mustard cooked onto the patty).
While this list does represent our top choices, we'd like to make honorable mentions to a few other popular faves. Eureka! (4143 Campus Dr.) has a very impressive variety of delicious burgers, like the Jalapeño Egg Burger (fried egg, bacon, cheddar cheese, chipotle sauce and pickled jalapeños). The extensive burger menu at Umami Burger (Irvine Spectrum) has a devoted fan-base; try the Throwback (two burger patties, white cheddar, miso-mustard, umami ketchup, dill pickles and minced onions). Peter's Gourmade Grill may be in Tustin (at 14311 Newport Ave., Ste A.), but it's definitely worth a visit; try the Bubba Burger (Angus patty, applewood bacon, cheddar, fried onion straws, BBQ sauce and lettuce served on a toasted potato bun). Also in Tustin is American Grub (365 El Camino Real). Like all the honorable mentions, American has many options, but since we haven't mentioned one on this list, we've got to have at least one great Mushroom Swiss Burger (Angus patty, swiss, sautéed mushrooms, lettuce, tomato and onions served on a toasted brioche bun). So, there it is; happy gorging!