A Tribute to SoCal Art Pioneer and Legend Tony DeLap
Tony DeLap, who died at his Corona del Mar home on May 29, was one of Orange County and SoCal's most well-known and innovative artists. 
To honor the life and work of the pioneering painter and sculptor, a public event, "A Tribute to Tony DeLap," will be held Sunday, September 8, at the Irvine Barclay Theatre. Several people who worked with DeLap, along with friends and family, will present visuals, stories and memories to honor his legacy. A hosted reception will follow the program.
The DeLap tribute is being sponsored by UCI Claire Trevor School of the Arts, Laguna Art Museum, Orange County Museum of Art, and Parrasch Heijnen Gallery.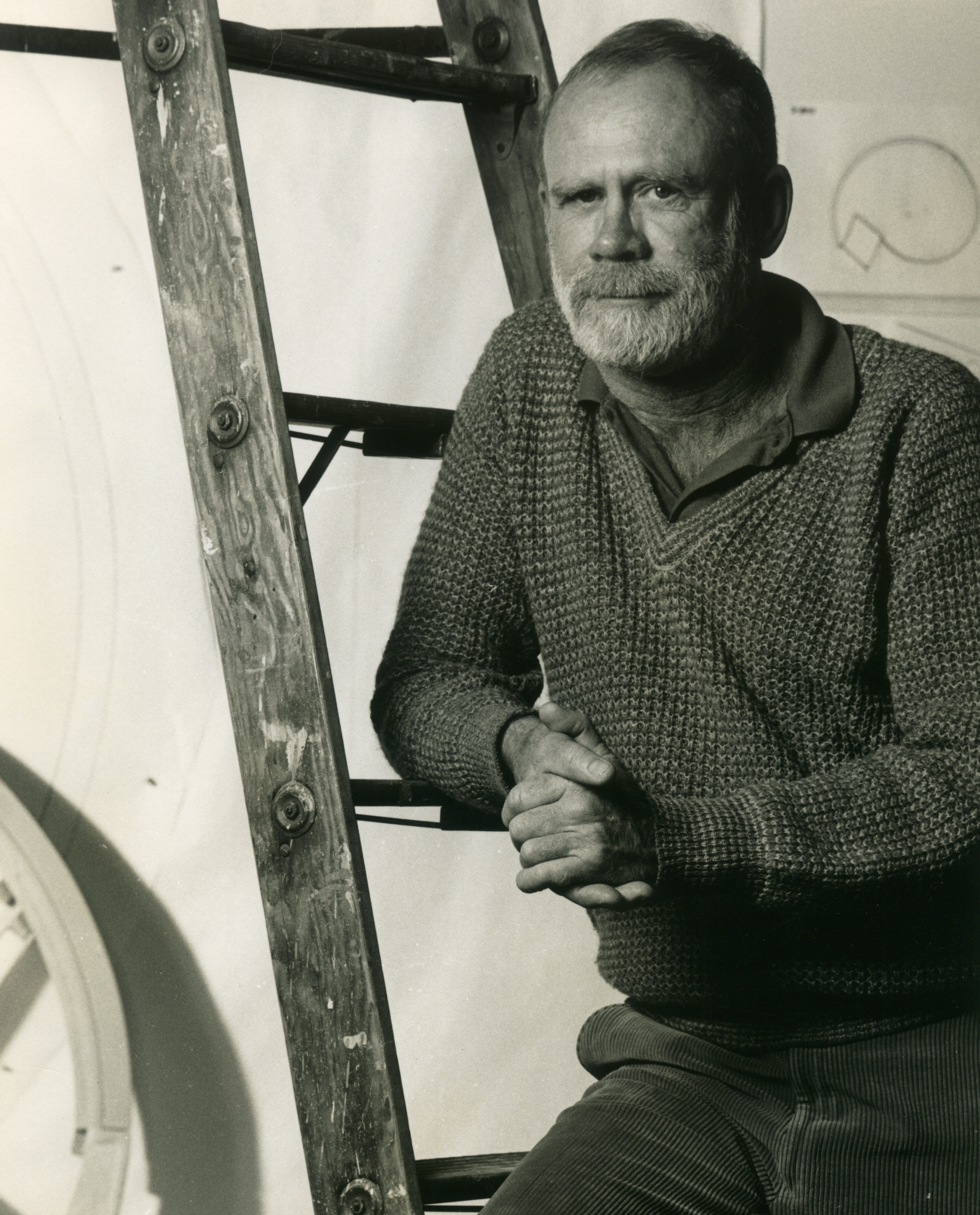 Among the tribute speakers is Grace Kook-Anderson, curator of the exhibition, "Best Kept Secret, UCI and the Development of Contemporary Art in Southern California, 1964–1971," held at Laguna Art Museum from 2011 to 2012. (She is currently curator of Northwest Art at the Grace Kook-Anderson.) In fact, DeLap served as project consultant for "Best Kept Secret," which was part of the Getty Foundation's "Pacific Standard Time: Art in L.A. 1945-1980" initiative. Anderson wrote about him in the accompanying catalog: "DeLap later developed a signature style of sculptural wall-hung paintings incorporating a wooden edge that wraps around with a twist, like a Möbius strip.
Other speakers at the tribute include Stephen Barker, dean of UCI's Claire Trevor School of the Arts; Bruce Guenther, former chief curator of Orange County Museum of Art, where he curated the 2000 Tony DeLap Retrospective, and more recently chief curator at Portland Art Museum; Chris Heijnen, friend and co-owner of Parrasch Heijnen Gallery, Los Angeles; Mike McGee, former DeLap student and former director of the Begovich Gallery, Cal State Fullerton; Dale Shierholt, friend and filmmaker; Todd Smith, director and CEO of Orange County Museum of Art; Greg Victoroff, friend and fellow magician; and Malcolm Warner, executive director of Laguna Art Museum.
As a longtime educator, DeLap taught at the California College of Arts and Crafts (now California College of Arts) UC Davis, and UC Irvine as a founding faculty member ⁠— teaching there for nearly three decades. Some of his former UCI students, including Chris Burden and James Turrell, have carved out their own careers in the arts, and in some cases have surpassed DeLap in fame and notoriety, but not in terms of innovative artwork.
In fact, DeLap has been at the forefront of significant art movements, particularly those in Southern California. The styles he worked in and helped establish include Southern California minimalism, California Light and Space (often referred to as "finish/fetish"), op art and hard-edge painting.
DeLap's most notable contributions to the art world were his shaped paintings, or works that combined features of painting and sculpture. Just as significant was his employment of magical perspectives in his work, specifically the construction of hybrid art pieces that appear to change shape as viewers move around them, and in the case of some pieces, appear to be floating. His inclusion of magical aspects in his work was a manifestation of his lifelong hobby as a magician, an avocation that he excelled in and often worked in.
DeLap's work has been included in: "The Responsive Eye" (1965, MoMA); Primary Structures (1966, Jewish Museum, NYC); and American Sculpture of the Sixties (1967, Los Angeles County Museum of Art). His work is in the collections of Tate Modern, London; Solomon R. Guggenheim Museum, NYC; the Whitney Museum of American Art, NYC; San Francisco Museum of Modern Art; Hirschhorn Museum and Sculpture Garden, Washington, DC; Albright-Knox Art Gallery, Buffalo, NY; Hammer Museum, Los Angeles; Walker Art Center, Minneapolis; and Musée cantonal des Beaux-Arts, Lausanne, Switzerland, among many other museums.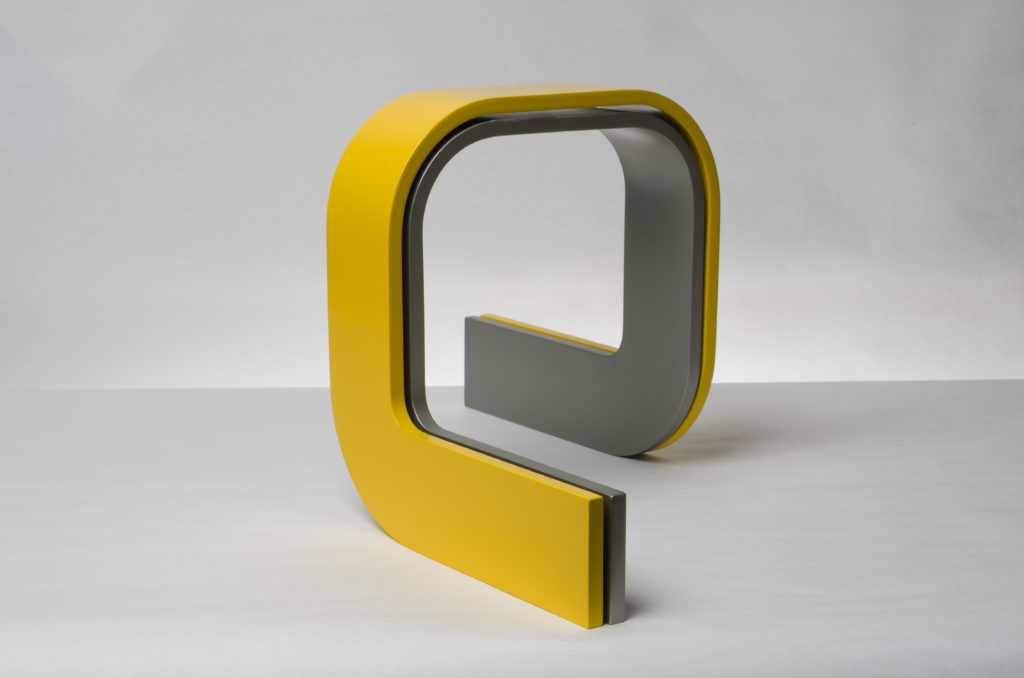 His 2000 extensive retrospective, "Tony DeLap," curated by Bruce Guenther, was exhibited at the Orange County Museum of Art. In the catalog accompanying that show, Guenther wrote, "DeLap has sought to express the purity of idea and form through his lifelong exploration of the space between the realms of painting and sculpture. Through meticulous construction and intellectual rigor, he has created objects of great clarity and beauty that inhabit the shadowy precinct of perfection. In questioning each form and accepting only that which serves the creation of the ideal, the artist has given substance to artifice and form to shadow."
DeLap's subsequent 2018 exhibition, "Tony DeLap: A Retrospective" at Laguna Art Museum was curated by noted Los Angeles art writer and poet Peter Frank. The show was a tour de force, nearly filling up the museum with the artist's elegant, superbly crafted and often-mystifying constructions.
Asked to comment about DeLap's work, UCI Claire Trevor School of the Arts dean Stephen Barker wrote: "Tony was fascinated by the curvature of space and time. His art was persistently at play with both of these dimensions, interrogating the nature of art genres, asking questions such as: Can you hang a sculpture on the wall? Does it then become a 'painting'? What is the relationship between geometric forms and complex curvatures? How can I distort planar space in order to create magical effects of weightlessness? Tony was a pioneering explorer of alternative spaces that he left open to further interrogation. Spending time with his art was — is — a question of active engagement with materiality and slippage. That's why the work is so fascinating, and so much fun. Tony's wonderful playfulness and wit shine through all his work."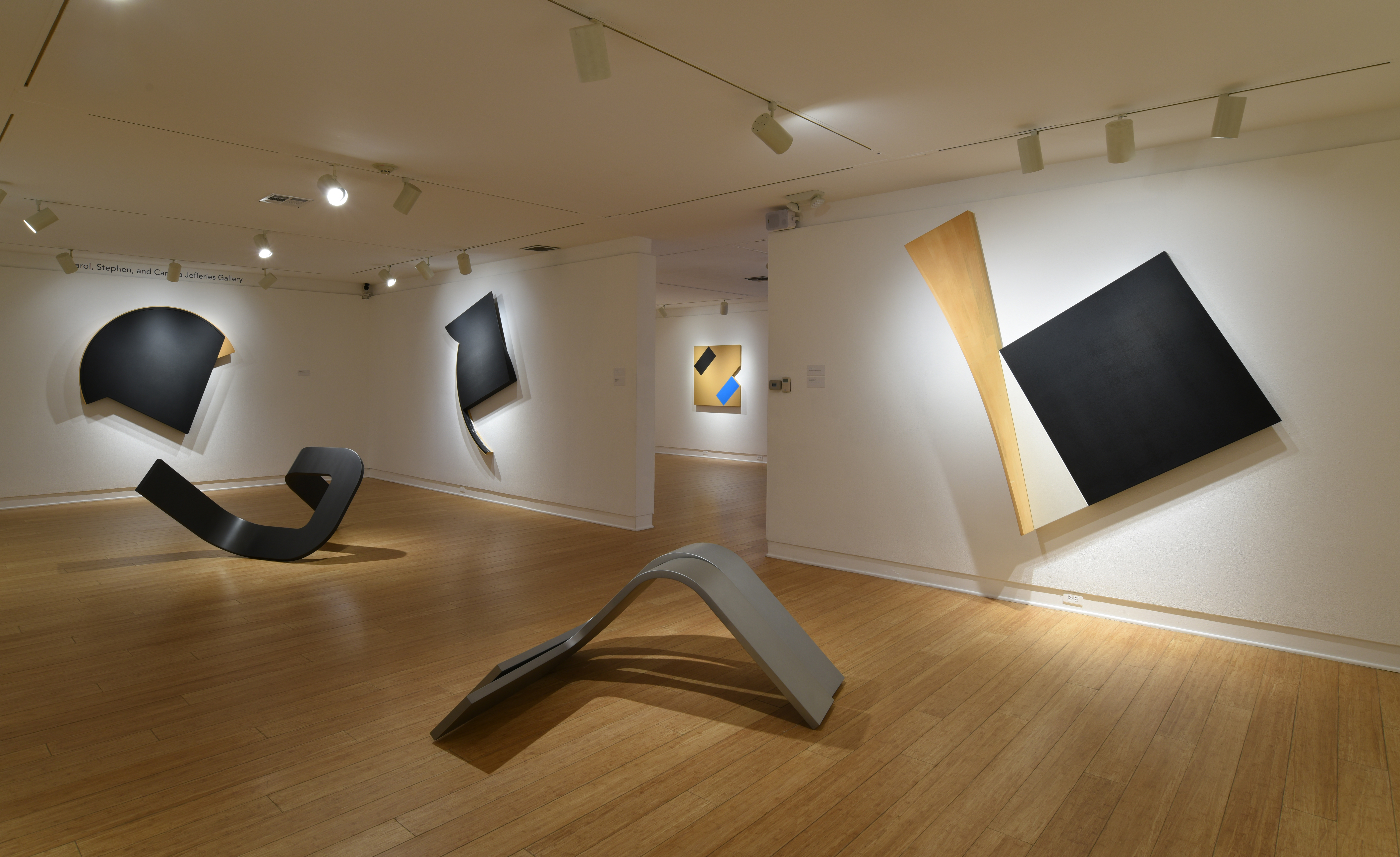 Bruce Guenther wrote: "Tony was among the first generation of American artists to define the ideas and look of minimalism. His lifelong exploration and questioning of the nature and physical structure of painting and sculpture produced some of the most elegant and innovative hybrid artworks of the last 50 years. Working within the explicitly formal concerns of system, size, color and materials, DeLap used illusion and artifice to introduce richly allusive presence into the seemingly hermetically fixed object of classical minimalism. The conceptual clarity and rigorous fabrication of his coolly reductive work established a standard met by few other artists."
Mike McGee wrote: "Tony made an astounding impact as an artist, educator, and human being. And he did it all with grace and dignity." 
Tony DeLap, who was also a devoted family man, husband, father and grandfather, will be greatly missed.
"A Tribute to Tony DeLap" (who lived until the age of 91) will be held Sunday, September 8, 1-4 p.m. at the Irvine Barclay Theatre, 4242 Campus Drive, Irvine. Parking is $10-$15 at the UCI Student Center Parking Structure, 311 W Peltason Drive, Irvine. 
For more information, please contact ctsarsvp@uci.edu or call (949) 824-0629. Public RSVP: bit.ly/2ZkQaLI.