Urban Seoul: A Cultural and Culinary Crossroads
Korean food? Amazing. Mexican food? Amazing. Why not put them together? This sort of thinking — putting two great cuisines together to make another great cuisine — has been the basis of all sorts of advancement in the culinary world.
Sometimes it's beautiful, as is the case with Brazilian chicken & waffles. Sometimes it should be illegal, like *shudders* avocado hummus. Don't even think of bringing up chocolate hummus, or, excuse our French, green pea guacamole.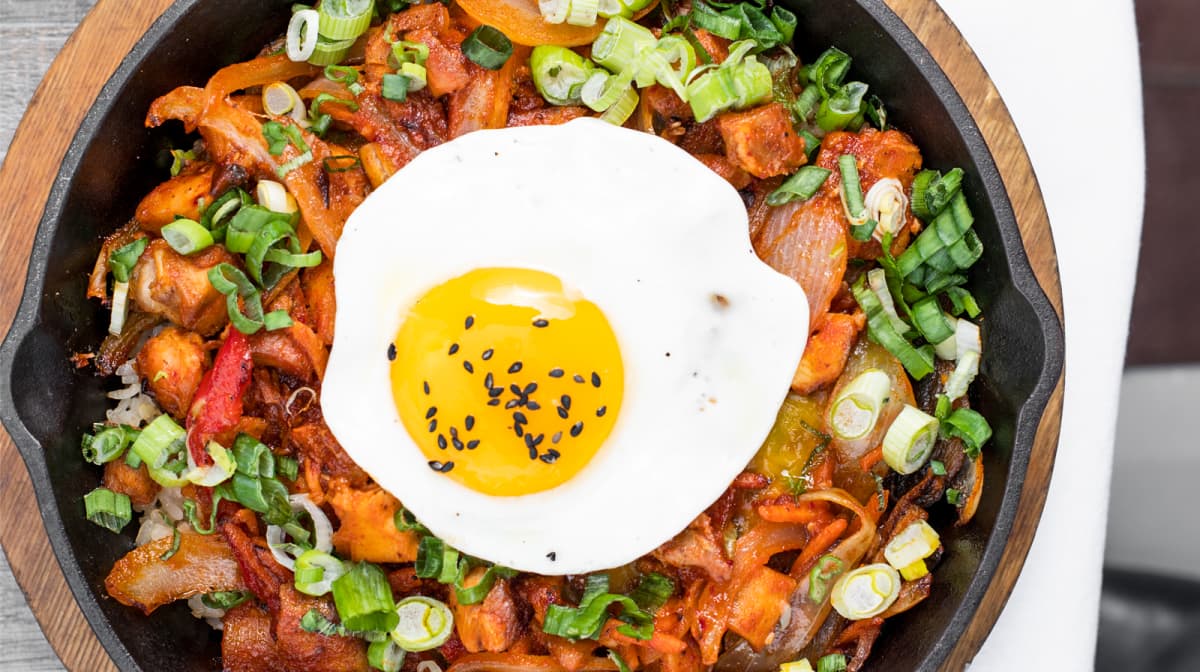 Culinary abominations aside, fusion food can sometimes result in pure goodness. So when Ryan and Bret  found out about a Korean and Mexican fusion restaurant in Irvine, Ryan's eternal craving for Korean food drove us right to their front door.
There are three locations in Irvine: two that go by the name Urban Seoul, and one in Irvine Spectrum called Urban Seoul 2.0, which doesn't seem too different from the original restaurants, aside from the design of the menu itself. The items seemed to match up in all three locations, though prices are slightly higher at the 2.0 location.
We decided to go to the location in the Diamond Jamboree shopping center, electing to sit outside so we could get better photos. However, as we ordered their drinks, cloud cover quickly moved in to thwart our plans.
The gloomy shopping center, thronged with UCI students looking for Saturday night fun, wasn't the best view. However, the casual nature of this place makes that a non-issue. Remember, they're here for the food, not the view.
As advertised, they offer a sizable but focused variety of Korean and Mexican inspired dishes, including a kimchi pancake quesadilla, tacos with kimchi and gochujang aioli (3 for under $9, beating out Puesto's delicious offerings in cost), chorizo risotto and grilled beef tongue rice.
When they go to Korean spots, there's one dish that they consider a priority: rice cakes. Known as tteokbokki, they're a mainstay in Korean bar cuisine. Bret had tried this dish at Fullerton's Ddoong Ggo, but had to conclude that Urban Seoul's won out — and for the far better price of only $5.00.
The tteokbokki, smooth gnocchi-like shapes made of glutinous rice flour, are served in a flavorful red sauce. We couldn't tell you what goes into that, but it tasted amazing — flavorful, tangy and just a little bit spicy. If ranked on their personal versions of the Scoville scale, they score at a zingy "mild-medium" on Ryan's and a perfect "medium" on Bret's. Think jalapeño-tier.
The texture of lower-quality tteokbokki can be a detrimental issue, but these glided across the tongue without trouble and held up well in the tasty sauce. Though the chipper waitress had understandably decided to give us forks upon arrival, we could imagine that these would not be difficult to eat with chopsticks.
Along with the spicy rice cakes, we decided to order the kimchi pancake quesadilla, which is, well, a kimchi pancake with extra fun inside. This extra fun in this case is grilled chicken, green onions, a combination of mozzarella and cheddar cheese, kimchi sour cream, and, of course, kimchi.
The kimchi pancake quesadilla is the spiritual superior of any chicken quesadilla we've ever had. It's that good. It's the moral opposite of the sad, microwaved quesadilla Bret ate in her dimly-lit work lunchroom the day before. Served with a cilantro sauce that we couldn't get enough of, this is a must-get. If that sauce happens to come in bottles, we want five.
For our final selection they went with the elote skillet (a callback to the famous Korean bar dish konchijeu, or "corn cheese"). Inside a small cast-iron pan, the dish begins with a bed of cotija cheese and mayonnaise covered in grilled corn, and it's topped with paprika, Korean chili flakes, lime, and cilantro.
The corn tasted fresh and stood up nicely against the cheesiness. The ratio was perfect — as much as there is in the dish, it was still not too cheesy. Dairy fans certainly get their money's worth, but the flavors complement one another with their respective dances, each bringing their own worthy moves to the table.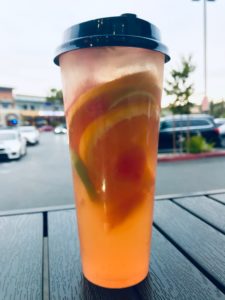 As far as drinks went, we perused the menu, considering flavored sakes (there are four), the soju bomb and the six draft beer options. We ultimately decided on non-alcoholic fare; Bret opted for the sakura fruit tea and Ryan decided to go for some iced matcha.
The drinks came in tall, car-ready cups with "sippy" style lids. Both looked intriguing, but they decided to try the matcha first.
It was difficult to get good photographs of it on that gloomy afternoon, since the tea itself is a dark hunter green. Ryan wasn't a huge fan of the bitterness, so they traded. While the matcha was fine, the sakura fruit tea was the clear winner.
It is served with chunks of grapefruit and other citrus, and tastes, in one word, tropical.
Despite the rain and cold, we felt as if we were sipping it on a beach in Cancun. We concluded it would taste even better when the weather clears up and heat begins to radiate off the pavement.
What we found most surprising about this drink was its sugar level. Rather than the overwhelming sweetness you would encounter when ordering a boba tea at Lollicup (just across the parking lot), the sakura tea is delicate, tangy, and has strong tea notes.
We were expecting a sickly amount of sugar, and they thankfully did not get it. The drink is pure refreshment. Bonus points: It comes with one free refill.
Full as we were by the time the check came, we're already planning our next visit to Urban Seoul.
That lychee soju look tempting, and all the Yelp reviews say that the Urban 3b (their unique version of bibimbap) is one of the best options on the menu. With more room in our stomachs, the decision would've been immediate.
Luckily, the convenient location — right off the 405 near John Wayne Airport and UCI — makes finding it an easy yet rewarding journey.
The flavors, reasonable price point and excellent drink options ensure that we'll make a point of coming back to try more spicy, bright Korean and Mexican dishes. While we haven't tried every fusion restaurant in Irvine (yet), this is certainly our favorite so far.